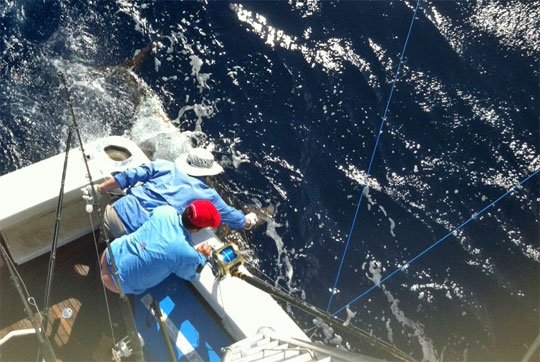 A few reports of the billed creatures over the past few days have come in.
Firstly Capt. Adam Jodan on Iona 2 is heading up north for his other business and will hopefully be taking advantage of the early season juvenile black marlin fishing very soon. Before departing what I hear is a very cool Port Stephens (multiple layers the go in the tower!), he headed out on Monday for a 90kg striped marlin for boys from the John Holland Group. Adam says there a still fish around and they would have liked to spend more time on the water but unfortunately one of the boys was a little green so they headed in early.
Also leaving the colder climate of Port Stephens and heading to the warmth of Fiji is Capt. George Trinkler. George says they have had a cancellation from July 2nd to 6th which is prime time for everything at Kadavu Island. While internet access is very limited over there, we look forward to the reports coming in with the season starting in just over a week.
The Fiji Islands Classic is being held from Port Denarau on July 12th to 15th, and usually has plenty of sailfish and a few marlin released. Opulence also does day trips from Denarau during July as this is the most popular time of year to visit Fiji. Contact George to book.
Up in SEQ, just a couple of reports – Aluhra fished out at the 350-400m line off Point Lookout with a 2-3m SE swell in 25.3 degree water. Nick reports the first blue marlin about 350lb took a 12″ Lava blue lure and trashed the ocean for 10 minutes before throwing it. Soon after another fish about same size charged the boat and spat the lure again. The consolation prize was an 18kg dolphin fish.
Meanwhile fishing of Fraser Island, Cjig went 1 from 2 on the blue marlin yesterday (photo above).  Grant says that the reddie fishing has also been red hot!