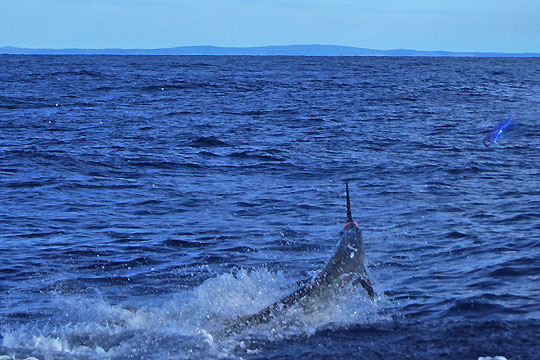 It often happens that right after you say the fishing is slowing down, something happens to prove you wrong – as it did yesterday with a hot blue marlin day's fishing on the Gold Coast for Capt. Brett Alty and the team on Mistress.
Hooked up on the first of 11 blues they would raise for the day within 10 minutes of lines in and they just kept coming.  By 1pm the score was 4-4-3 and while the conversion wouldn't improve on this number, the action didn't stop with a triple header soon after.  Capt. Brett says that the three fish went crazy and jumped all over before coming unstuck – will be looking forward to seeing the video footage of that soon.
They finished the day with a 7-4-3.  Photos above and below from Andrew from Larva Lures who was on board to capture the action.
The Gold Coast is having a cracker of a year. Hopefully it just continues all the way through!
Video footage to come..