An update from Stav on the previous report from the weekend's fishing off Townsville:  New owners owners Greg Gilbert & Craig Singleton went 3 from 10 on Maverick with newly relocated Capt. Dean Beech while the O'Brien family on the new O'Brien 34  OB1 went 2 from 2.
The Nicolosi family on their boat Zuri fished less than perfect weather conditions on Saturday for 3-3-2. Donna says it was a slow start but they got their chance after watching OB1 and Maverick hook up one after another. The first was for Donna around 15kg and the second for Jack around 10kg.
On Sunday the conditions were idyllic and they headed out to find the bait exactly where they left it and it wasn't long before Sam tagged his first marlin ever with Jack at the helm (dad Sam is usually behind the wheel!). The rest of the day was action packed with marlin constantly hitting the bait, eventually going 8-8-3 (with final tally for weekend 11-11-5) with the other two going to Alex and first time angler Rowan Nix.  Donna said they broke off another two boat side and all the fish with exception of Donna's were 10kg and under – very were exciting little fish constantly charging the boat and doing somersaults underneath the riggers and out the back of the boat resulting in a lot of thrown hooks, but it all made for some great footage. All in all it was a great weekend full of excitement and they can't wait to get back down there this weekend!  Thanks Donna! (Photos below).
Also on Sunday Screamer released 3 from 4 including a first, followed by a second marlin for Renee McKenzie (photos  below).
And it's not just in Townsville that they are showing up, traveling tackleman Ashley Cotter sent me word that he saw pictures of a 13kg black marlin caught off the mouth of the Don River at Bowen on the mackeral patches about 5 mile out by a couple of  young blokes in a small tinny!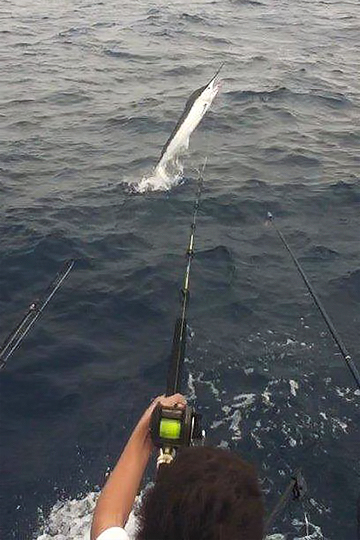 Jack fighting his black marlin on Saturday on Zuri
Alex's baby black marlin comes on board for quick photo on Sunday on Zuri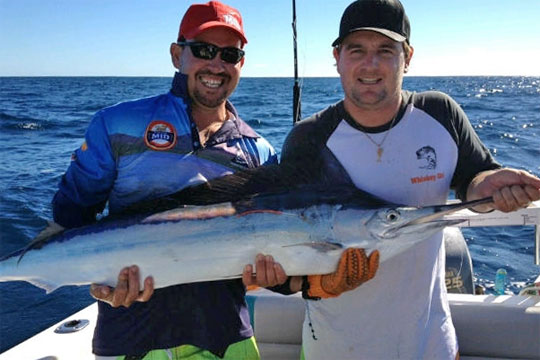 Wade and Ben on Screamer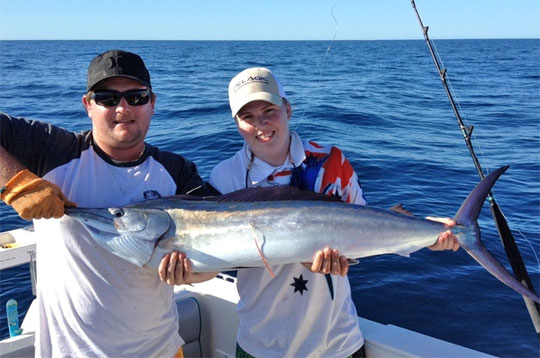 Ben and Renee with Renee's marlin on Screamer