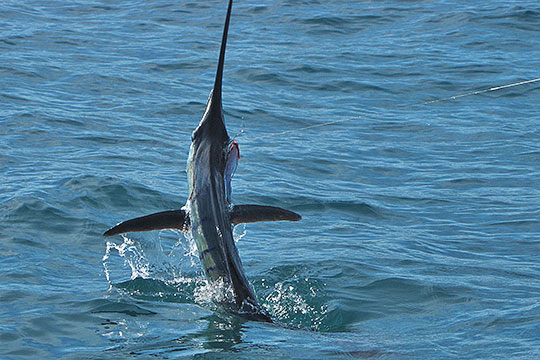 A report from Ben "Notso" Bright doing some guiding yesterday off Weipa with fly fishing clients.  Ben says they raised four sailfish (2 single, 1 double). Regular fly client Rick Boebel – who had never caught a billfish before – got 2 casts in and caught both of them.  Ben says on the double, the second sail was eating the fly as it slid up the leader of the other that was hooked.  He also saw a free feeder in front of boat.
Its been a long while since we had a billfish report from Weipa, and the last time we did, it was from Ben as well (back in December 2011. Ben has 'retired' from full-time guiding so doesn't have as much opportunity to chase them, or perhaps more ;-) ) We're currently in the Gulf ourselves with two weeks to go of our season over here, but we haven't done any bluewater fishing this year with the barra keeping us plenty busy.
Weipa locals gearing up for the Weipa Fishing Classic this weekend will be happy to hear about Ben's fish with a billfish category included.
So hopefully a few more will be out targeting the billies! Thank you to Ben for the report and pics and congrats Rick!