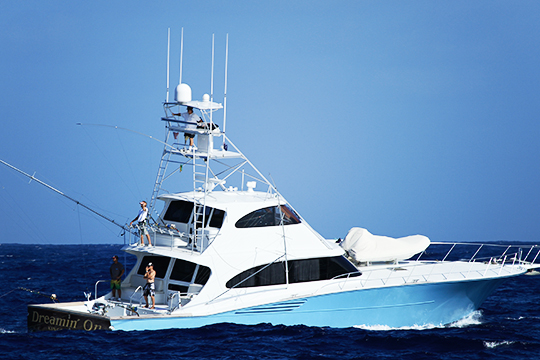 For the Aussie readers – do you remember Dreamin' On, the big blue boat (78 Garlington) that spent some time on the reef with us chasing the giant black marlin in 2010 on their way around the world?  Capt. Simon Carosi spent some time on board lending his wealth of local knowledge that helped them catch 29 black marlin from 48 bites with 6 of those fish over 700lbs and two over 900lbs while they were here.
Well they are at it again and the twitterverse is a-buzz with the news that on Tuesday, Capt. Randy and the rest of the team released a massive 17 blue marlin off Cape Verde.  Leisure Lee Stevens reported that their previous best fishing days were two days of 10 marlin in a day as well as one of 11. Well they smashed that record!
The anglers were Steven Keinath, who owns Dreamin' On with his brothers Warren and David, and his brother-in-law Tony.  Leisure said that they had plenty of double and triple hookups, but with just the two anglers on board, the triples were just not possible.
This amazing day puts them on 140 marlin now for their Cape Verde season that already includes some other great days including one when they went 11 from 26!
If you're interested in finding out more, Leisure is writing regular reports for the ABMT and you can read them here.