BlueWater Boats & Sportfishing Magazine Issue 92 now on sale!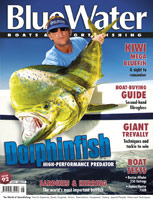 The latest issue of our local industry mag went on sale yesterday. Grab your copy newsagencies across the country. This issue's features include:
DOLPHINFISH – HIGH-PERFORMANCE PREDATOR: These spectacular, tasty, and exciting gamefish are also fascinating creatures. Donald Hammond, the US marine fisheries biologist who runs the Dolphinfish Research Program, reveals just how fast they grow, how remarkably gluttonous they are, and how far they travel in their brief lives.
THE GT GOLDMINE – PART 2: Master GT angler, Brandon Khoo details the strategies, the mindset, the techniques, the tackle and the vital tips that will not only get you hooked-up to the biggest GTs in the world, but offer you a real chance of landing them!


Attention All Newcastle Fisho's
A group of Blue water Anglers backed by the Newcastle Cruising Yacht Club are meeting next Tuesday the 03 July with the intention of establishing a Game Fishing Club that will operate out of the port of Newcastle. The meeting will welcome all interested people, experienced Blue Water anglers or newcomers who would like to try their hand at the sport, boat owners or those interested in joining a crew.
The meeting is at 7:00pm next Tuesday the 03 July 2012 at the Newcastle Cruising Yacht Club, 91 Hannell Street Wickham. Further information can be obtained by emailing curtisandco@hunterlink.net.au or contacting the club on 02 4940 8188.


Heading to Townsville?
Rosshaven Marine in Townsville would like to offer their services to the bill fishing fleet during the Townsvile Bill Fishing Competitions. They have 20 secure floating berths on a pontoon and offer onsite fueling and Vessel Haulout Facilities along with a fully stocked chandlery for all the vessel owners needs. Berthing discounts available for entrants to the Townsville Bill Fish Competition.