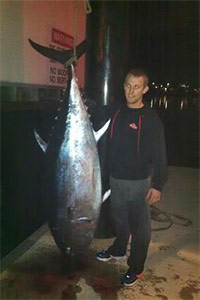 Mickey Altmann sent me an update from Rob Curry's Botany Bay GFC club boat Marquis that landed some cracker bluefin tuna. As Mickey reports "Fishing just outside Browns Mountain they decided to stop to have a "cube" just after 3pm at a temperature break of 19.5 degrees. As the boat slowed down and the lures sank both riggers went off, with fish on the surface & one down deep.
After twenty minutes or so the hook pulled on the fish down deep and with about 500 metres of line out the angler was cursing his luck & jokingly said "would'nt it be a classic if we got hit on the way in?" Sure enough about 40 mtrs from the boat the lure got smashed. So after a few close calls and a bit of 'knitting' ……with Marquis number one decky Mark Curtis on the trace and gaff, both fish were boated."
One of the fish was 73kg and the other a massive 145.5kg!  Both were caught on 130lb tackle on lures.
Mickey says the 145.5 kg fish would have shattered the NSW and Australian records which currently stand at 106kg but unfortunately the angler is not a club member. Other boats had good results including a 102kg monster for Al McGlashan and his team.