NQ Juvenile Black Marlin
More crazy black marlin shenanigans at Cape Bowling Green off Townsville on the weekend.  On Midnight, the boys notched up 5 for the weekend (Michelle maintains they are rod hogs!)   She missed her chance dropping one on Friday while young Thomas missed another and Michelle hooked up again to a bigger marlin on Sunday that chose the 6kg outfit to strike and smoked them on the line line before busting off.
Michelle also tells me that Mick and Lee, the husband and wife team on Reel Crazy tagged 10 over the weekend as well with two double hookups in the mix with just the two of them on board. And, Capt. Dean Beech on Maverick reported another 6-3-3 Saturday and a 5-3-3 Sunday.
Off Cairns, Square Bear with Capt. Darren "Biggles" Haydon on the wheel and Greg "Noodles" Sims on deck released 3 baby black marlin for three young brothers.
Big Southern Bluefins on the boil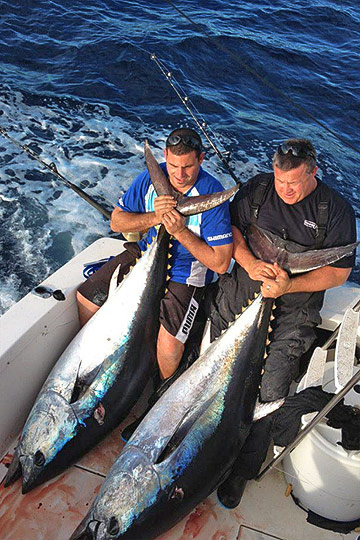 I had reports from Anthony and Ed who tell me the Band of Brothers boys on Tonlu 2 ventured wide of Browns Mountain off Sydney on Saturday to a temperature break and upwelling that they had been monitoring all week.  Ed says they had worked it for an hour or so when all hell broke loose with a 5 way hook up on southern bluefin tuna barrels. They managed to boat two of the five at a massive 110kg and 104kg with the others lost on crossed lines!
When the fish first came up, Anthony says the boys had several 100kg PLUS bluefin Tuna were fighting over the teaser before Dave wisely pulled it out of harms reach.
Then, 30 mins later after reseting the spread they caught a nice yellowfin around 30kg to top off an excellent day thanks to Skipper Luke Maddern and crew Ed, Dave, Joe, Martin, Vinnie, Ben, and Caige!
Mickey (see Mickey's report from Marquis 145.5kg SBT in the post below) said there were a number of other boats getting amongst the action on Saturday.  Charter boat Reef Magic went 3 from 4 on a quadruple SBT hookup with the fish ranging from 50kg to 75kg. He also heard some unconfirmed reports that another  five boats caught fish over 100kg as well as plenty more reports of yellowfin tuna to 25kgs and albacore to 10kgs keeping crews busy!
Gold Coast Too
Andrew from Larva Lures had another fun day out off the Gold Coast on Saturday, this time on Mistress with Capt. Brett Alty who released their second striped marlin for the week as well as several yellowfin in the 25-35kg range boated. Andrew reported the final stats as 3-2-1 striped marlin tagged (2 blues coming off), 7-7-6 yellowfin tuna and 3-3-2 dolphin fish. No doubt the families are eating well this week!