Many of my generation cut our teeth on our first marlin at Cape Bowling Green and it's so great to see a new generation of anglers doing the same and taking advantage of the great fishing off Townsville this year.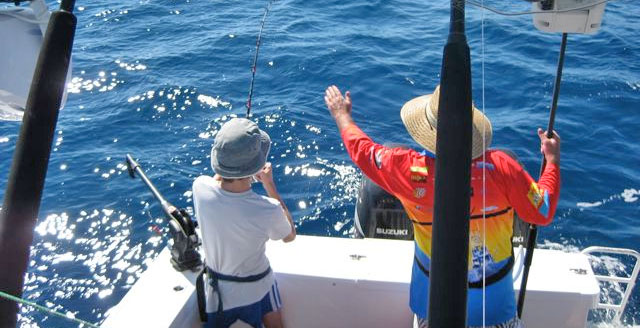 Townsville Juniors
Young Brodie Flynn (getting some instruction from dad and Townsville GFC Treasurer Shane above) tagged his first marlin while fishing on Viagra on Saturday. Vearo tells me it was a laugh a minute at CBG with 5 rods hooked up at once on 3 marlin and 2 mack tuna and as is the way, in the bedlam, they got the tuna and stuffed up the crazy small marlin!
After another multiple hook up they wound up 7-5-1 for the morning's fishing.  Nearby, Brook Clark fishing with her family on Miss Conduct also tagged her first billfish.
Go the junior anglers!
Thanks Vearo for the report.