With a big thanks to Mission Beach GFC's Barbara Leptig and Capt. Kim Andersen for all the details: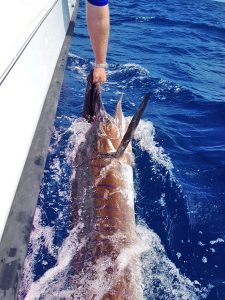 2012 Cairns BlueWater Billfish Tournament Report
The 10kg competition was once again held out of Fitzroy Island with fishing Thursday, Friday and Saturday followed by the presentation on Saturday evening.
With 27 boats competing, the fishing was hot from the outset.  By the end of Day 1, the leading boat had notched up 6 tags with a total of 53 billfish tagged amongst all teams. Days 2 and 3 were almost as good with closed to 40 more added each day.
And in a tight finish, Champion Boat Over 7.5m (Capt. Kim Andersen's On Site) and Champion Boat Under 7.5 (Secret Agent) both ended on 10 tags apeice, with Secret Agent pipping On Site on countback for the Calcutta!
Final Results
Champion Boat over 7.5m "On Strike" skippered by Kim Andersen with 10 tags.
Runner up "Kanahoee" skippered by Chris "Sharky" Miles on 9 tags.
Champion Boat under 7.5m "Secret Agent"with 10 tags (Don Eccleston, Dean Grieve and Gene Payne.)
Champion Angler Dean Grieve on "Secret Agent" 5 tags
Champion Junior Angler Oliver Argyrou on "Kyrenia" 4 tags
Another photo via Barbara from Mission Beach GFC's team member Terri Morgan on her boat The Edge.  As Barbara said, looks like the blacks were small, but that's a horse of a sail!