Well while the tournament has been the focus of the last week on my radar, there has been much going on outside the tournament as well.
Many of the southern based professional marlin fleet are already making their way north for the Cairns marlin fishing season.  After stopping over in Townsville for the competition, Gorilla and Sea Baby  will soon be continuing their way north onto Cairns. While KEKOA and Kanahoee will be returning back to Cairns soon too. Castille III arrived in Townsville over the weekend and Capt. Brad Craft has been  treating owner Mark to a few days on the light tackle billfish at Bowling Green with a 5-4-2 sailfish on Sunday, a 2-2-2 black marlin on Monday and made that 3-3-3 already this morning!
Tradition arrived in Mackay after a 10 day trip north from the Gold Coast via a few days at Percy's and will fish for the little black marlin at Bowling Green later this week on their way north.  Capt. Brett Alty's Mistress is also on its way north from the Gold Coast and put his Larva's out for good use on another blue marlin that he put at 450lbs off Fraser Island (below) for first time angler James Ross.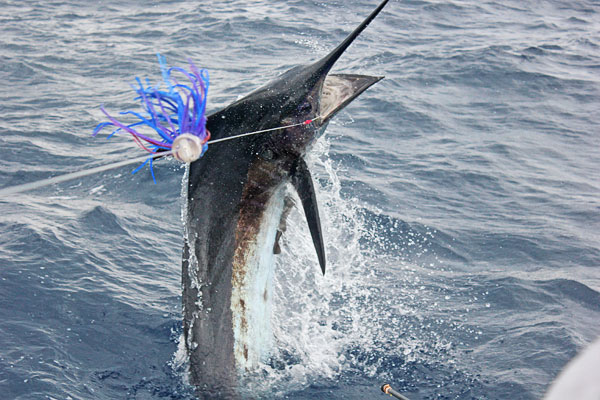 And Little Audrey and Calypso have swept through the Gold Coast and continued their way north too.
Meanwhile, one that has already begun fishing off Cairns is Captain Adam Jordan on Iona 2. Heading north to Lizard Island they released two blacks at 350lb and 120lb and raised two bigger fish in the 4-500lb range. They also released this sailfish – another great underwater image from Rhino!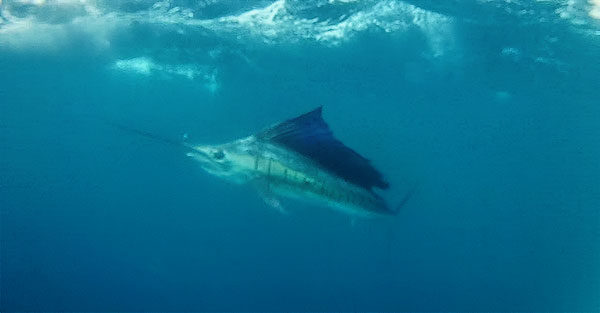 And more little blacks reports from SEQ: Galaxy 11 caught one from two off Cape Moreton. Jim reports that the angler was his son, junior angler Ryan McKinnon and the fish was right about the same size we are seeing at Bowling Green – 12kg.