I suspect I may be out of phone range in the morning so an early weekend wrap up black marlin report for you today!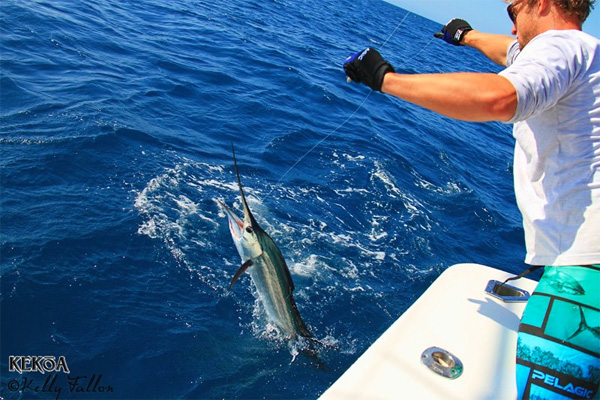 The little black marlin are still firing at Cape Bowling Green off Townsville. On KEKOA, we started a five day trip on Friday with an 11-9-7 black marlin in a hot afternoon bite.  Tradition joined us on the spot late for a one from three.  The next day KEKOA added another 5 (this time, 3 black marlin and 2 sailfish – photo above) for the Brissie boys while Capt. Tim on Tradition converted 4 from 6 (3 black marlin and a sail). A photo I took of Tradition mid-fight below. Puts the size of these fish into perspective!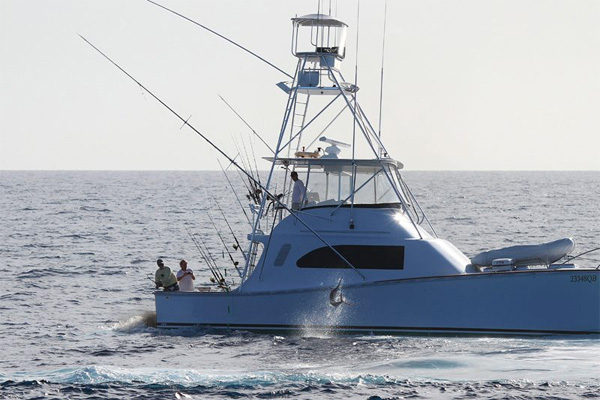 Saturday was also another Townsville GFC club comp day and the local boats showed no fatigue from the tournament to get out on the water in numbers and take advantage of the one day of good weather.  Mick Dykstra's Reel Crazy called in two tags while many other boats were still traveling.  While other members of the club fleet including Midnight, Burgandy Lady, Flotation, Maverick and Mojo also added tags.  On Mojo, it was good to hear that Mark Parkes had a rod in his hand for a change, tagging a fish for himself after driving his anglers to success in the comp!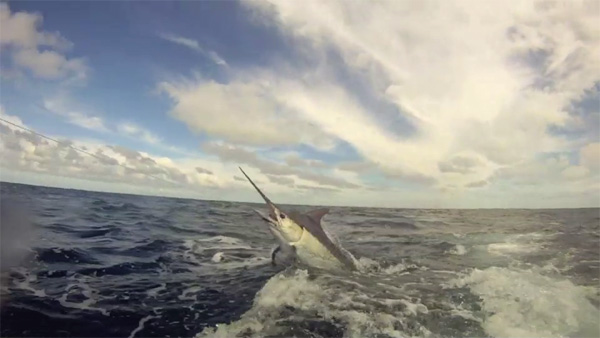 Back up north in Cairns, which hasn't been enjoying the run of good weather like Townsville, they are still picking away at both light and heavy tackle fish.  Capt. Adam Jordan's Iona is fishing right up the top of the reef and released a 400lb-er right after start fishing on Friday at Number 10 Ribbon. He followed up with another about the same size, 20 mins after lines in yesterday (Saturday) for angler Peter Frost.
Meanwhile on light tackle, Paul Poulter's Think Big popped out for a fish yesterday going 4-2-1 for his youngest, Adam.  Then straight onto the Cairns BlueWater GFC's annual awards dinner where the family cleaned up with Champion Female, Champion Male Junior, Champion Junior Female Angler and Champion Boat! Congrats to all!
Meanwhile another of our fishing identities, Mistress' Barry Alty has just returned from Nova Scotia where he encountered a beast of a different kind. At home tackling the big black marlin and blue marlin on the Gold Coast, this time Barry successfully tagged and released an estimated 1,050lb bluefin tuna.  Barry says it was 35 min fight fishing from North Lake, Prince Edward Island. This amazing fish marks Barry's  third grander species; black marlin, tiger shark, bluefin tuna. And he laments the blue and the swordfish will be a bit harder to find!  Congratulations Barry!
BlueWater Editor Tim Simpson has likewise just returned from his readers trip to Canada.  I'm sure we'll find out more in an upcoming issue of the magazine, but Tim says they tagged an impressive 9 bluefin between 500 and 1050 pounds!