Just a couple of short weeks now until the Cairns Giant Black Marlin season kicks off in earnest and a few boats have already started their seasons.  While many more are still just arriving into Cairns and finishing up on light tackle which continues to be pretty consistent in the north.
Capt. Daniel Carlson' Little Audrey spent a couple of hours off Flynn Reef and raised two fish around the 150lb mark, heading into Cairns.  Also heading north, but on light tackle, Capt. Tim Richardson on Tradition tagged two juvenile black marlin including one that had been previously tagged.  This is one of four previously tagged fish that have been re-captured (and re-released) over the past couple of weeks. On our way to Davies Reef on Sunday on KEKOA with Capt. Luke Fallon, we caught another that had been previously tagged and already have the details of the first tag courtesy of Townsville GFC.  The fish was tagged exactly a week prior by Ron Stephens on Far Cry during the Townsville tournament.
Kevin Dewy sent me a couple of pics below from last season on board Shaka to get us excited about the season ahead.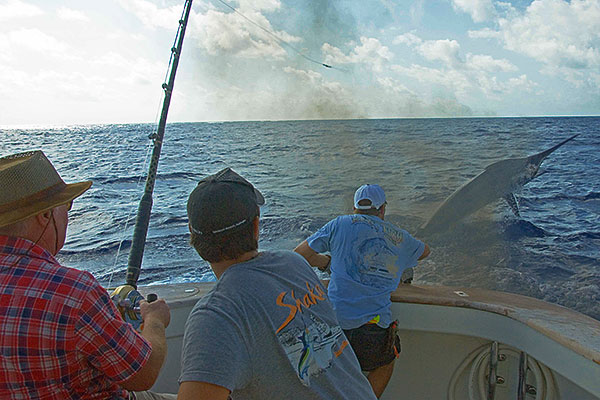 I also received this pic to go with the previous post – of Adam Poulter's first marlin which he caught on board his Dad's boat Think Big on Saturday off Cairns. The fish came on board for a quick pic to mark Adam's first before being released.