While there are a few boats fishing heavy tackle already, there hasn't been too much to report just yet (now that I've said that, someone will just go ahead and prove me wrong!) But even for the fleet who are still bait fishing for the season ahead, picking up a small black marlin or two inshore is still a daily occurrence.
But from among those still actively targeting the little blacks, I received an awesome late report from last week week from Cape Bowling Green on Richard Bax's 65 Salthouse Calypso Mango.  Little Ships GFC's Steve Carroll who joined Richard, Tony Gray and Charles Ainsworth on board told me that Richard put out the call after the successful Townsville tournament and they were traveling to join him in the north by Wednesday.  And, in what was essentially 2.5 days on the water, they released 15 black marlin and 1 sailfish (as well as 6 tuna and 6 spotty macs)!  Steve says they had such a blast, he was at it again just a few days later but the weather conspired against and they only managed to add another 2.
Likewise off Cairns, the little blacks are still going strong.  Another late report from last weekend where Steve Williams on Stressless went 3 from 4 out of Yorkey's Knob.  Steve's daughter Alana and wife Anna both tagged their first ever marlin. Alana also tagged her second a short time later.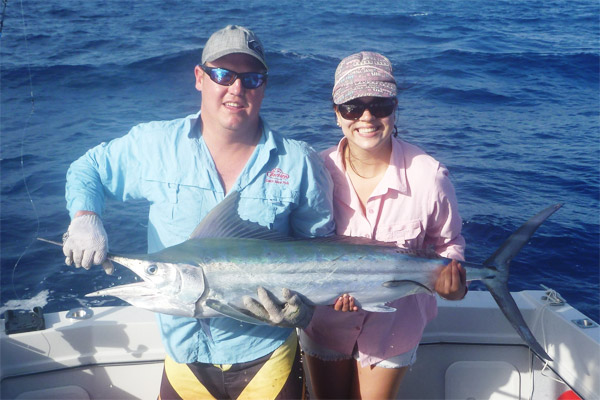 Picture above of Grant holding Alana's first, complete with remora, which was also released.
And yesterday, there were plenty more reports on the radio coming through. The extended South Mission Beach White family gang headed out from Hinchinbrook to Kennedy Shoals and picked up two blacks in what was another beautiful day on the water.  Photo of Joey Atzeni and Luke Meeks with one of the two before release.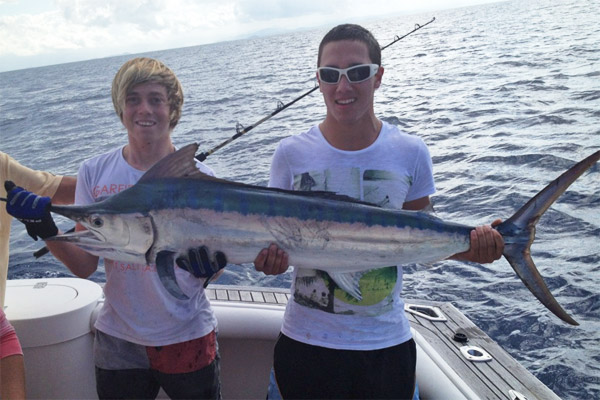 Reports from other parts:  Lou Pearce sent me a quick note from Weipa. Off Weipa Saturday fishing on board Envee with skipper Michael "Chook" Prychidczuk, Lou released a 150lb black marlin for the morning.
And a report from SEQ from Wednesday: Nick Currey was out with Dino Rosa on his new 30 Grady White Manic off Point Lookout wide, when Dino on his new 37kg outfit ( 1 day old) hooked a big blue marlin on a 15″ Larva Lure. Nick says the fish ran more than 500m on first run and then slugged it out under boat. Unfortunately, after 40 minutes hooks pulled. Now Dino's got the bug and Nick's sure you will see him out there a lot this season!