Let's face it, I haven't had nearly as many light tackle black marlin reports from Cairns this year, so one might be tempted to believe the fishing has been better in Townsville…. so not true!! I think its more to do with Townsville having a better share of the good weather and the local boats being able to get out and enjoy it.
Finally we've seen a bit more of a run of good weather off Cairns too, in particular, the last few days being mild to gorgeous, and so boats fishing off Cairns have also been able to enjoy some great light tackle black marlin action.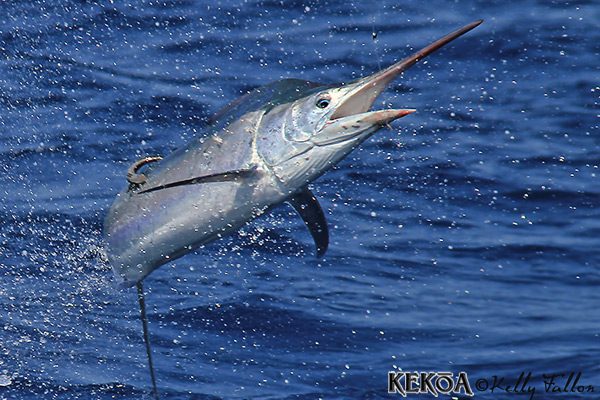 On KEKOA we got into it on our way into Cairns, on the final day of our trip up from Townsville yesterday and tagged 7 black marlin in just over 4 hours outside Fitzroy Island on our way into town (one of KEKOA's fish above).  We also raised another three, including one that wouldn't switch and jumped two of the little greedy-guts off. The bite was definitely red hot with the little fish trying to eat anything and everything we had in the water including one that had a taste of all three of our teasers before he engulfed the live bait we offered!
We also came across Scott "Bat" Taunton fishing in Valhalla.  Bat told us he had caught 4 from 9 in the same spot fishing on Friday and went on to catch another 7 or so again yesterday (Bat, can you confirm the final number?). I got some action shots of Valhalla when we hooked up side by side at the same time.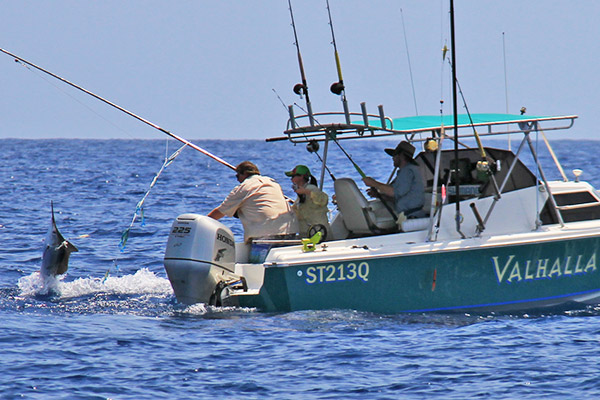 Whitsundays
More reports from the Whitsundays where the action also should only increase in the leadup to their tournament in late October. Cresta's Tim Ballintine tells me that with Capt. Simon Carosi Afishionado spending some time in the Whitsunday's on their way north, Mum Sue spent some time around Hook, Line and Sinker Reef and went 2-1-1 on sails pulling lures on the way out (photo).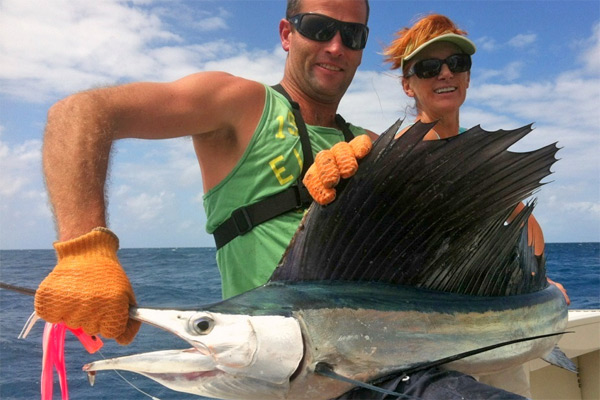 Weipa
Ben "Notso" Bright added another two sails to his season tally (what is your season tally up to now Ben?) yesterday by 9am and broke the leader on another black before the tag went in.