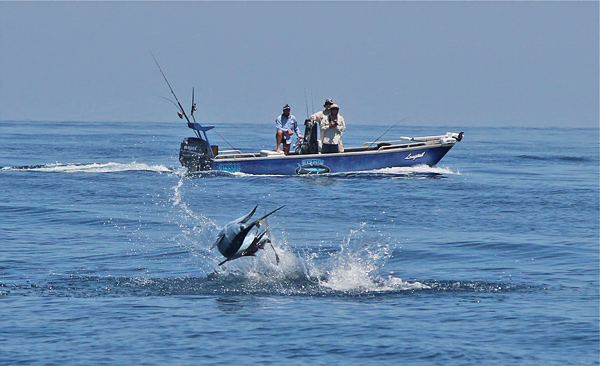 Ben reports it's been a busy week on the water for him in the leadup to the 2nd annual Weipa Billfish Challenge which will be held next weekend over the Queensland Queens Birthday long weekend take 2.
He's fished the last 5 days for 13-11-10 which was made up of 9 sails and a 60kg black marlin and also includes 1 from 2 on fly. (And this is off the back of his part in the team Mojo win in Townsville.)
Ben says its really starting to look good with bait starting to show and every boat he is talking to is finding fish. Everyone is keen knowing the EPIC numbers that are floating around in the gulf somewhere!
There have been a few blacks floating around.  Envee reported a 150lb black earlier in the week and in addition to the one that he caught, Ben said he had bite from similar size black on teaser yesterday.  Alan "Fish" Philliskirk was fishing beside Ben and he broke off a black of about 150lb and saw 2 sails.
Unusual for the Gulf, Ben says they also had a pack of dolphin fish rounding up flyers – rare but not unheard of.
Yesterday he finished the day with a double header and on the way home in dirty water had one free jump just 50m in front of the boat in 52 feet of water just 12nm from the harbour!