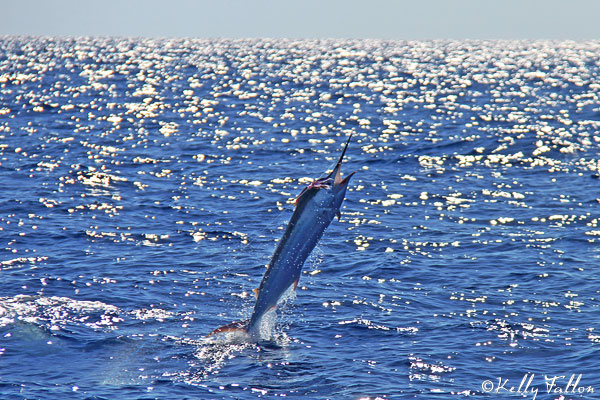 A couple of boats are already fishing heavy tackle and while I've not heard of any big fish(…yet..!), a couple in the mid-range have been reported as well as a smattering of smaller fish.  Capt. Brett Goetze's Reel Chase spent the day at Linden Bank on Wednesday for their first HT day of the season and released a 200lb black for their guest.  Capt. Damien Collette on Saltaire was actually fishing light tackle when he hooked up to a 200lb-er on 10kg on the wide grounds which was the first marlin for angler Jake from Melbourne.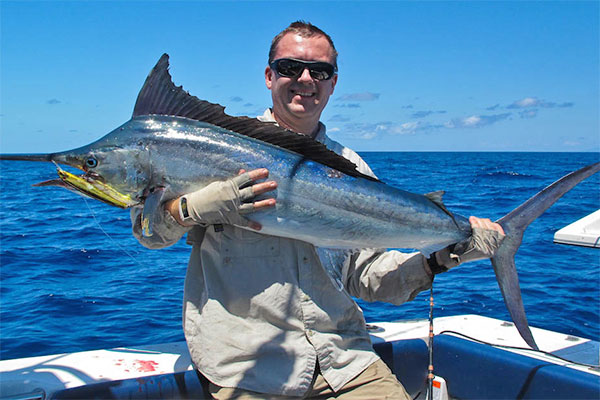 Stephen Polzin and his mate fished his 625 Cruise Craft Explorer Reef Madness on Wednesday as well for a 20kg black marlin released after a quick photo (above) caught on a laser pro near Thetford Reef.  Soon after they headed out to Euston Light and hooked up to a much bigger fish that took a skipping gar on 15kg.  Stephen fought it for 3hrs before releasing it at the side of the boat.  Check out the footage of the fish jumping beside the boat here. Nice one Stephen!
Meanwhile, sticking to the light tackle for the time being, Capt. Luke and I joined Grant on Cjig for a few hours on the water yesterday morning and released 4 black marlin before heading back into Cairns for lunch. (photo of one of Luke's fish on Cjig at top.)
For anyone who has been watching the Townsville forecast this week, its been showing an almost unprecedented 7 days of glamour through this weekend. While I haven't heard too many weekday reports, no doubt there will be plenty on the water this weekend as school holidays begin as well. Looking forward to hearing more.
Exmouth Great Marlin Race (blue marlin) progress: EGFC reports that Bjorn Farley's blue marlin tagged in March is now running second in the race after having traveled 1035nm over 120 days. The leading marlin is a blue tagged in San Juan after having traveled a massive 4667nm!
Bjorn's marlin has traveled the longest distance for all the Exmouth fish tagged before June 30th, winning him the $10,000.00 prize for the Exmouth component! IGFA representatives traveled to Exmouth in March for Gamex and were so impressed that they have requested EGFC be a part of the Great Marlin Race again for 2013.