I'm on the run this morning so quick updates from the north with pics: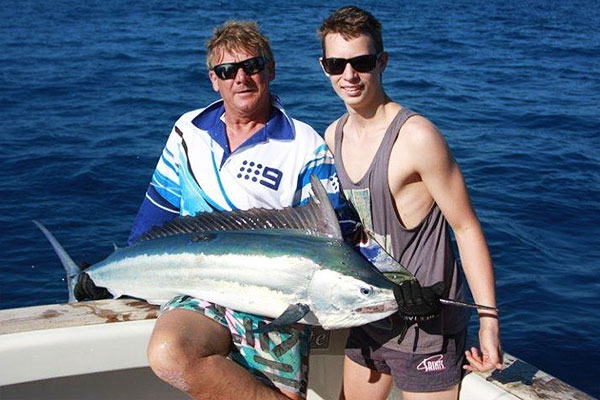 Bradley Eade (with Capt. Rob Bonser) and his first marlin on Pirate yesterday.
This weekend's Weipa Billfish Challenge can't come quick enough for some. Pre-fishing for the event ahead, Alan "Fish" Philliskirk has been out with Darren over the past two days and released 11 over the weekend. 3 from 5 on Saturday,  and a very impressive 8 from 11 yesterday.
Gaven Roberts was out on Friday and released 4 from about 15 raised including a quad hookup at one stage.
In this photo, young Lewis French swims his first sailfish that he caught fishing with his dad Darryl yesterday off Weipa. Congrats Lewis!




Some spectacular weather off Cairns over the weekend saw almost everyone getting out and getting onto the little black marlin.  And more notching up firsts – Talina O'Brien christened her tinny Runamuc with its first marlin.  Ladies Ribbons' regular Kylie Burt also joined the marlin club on Saturday with her first marlin on board Reel Fever . And fishing on board Pirate with Capt. Rob Bonser yesterday, Bradley Eade and Symantha Ledger both caught their firsts.
Plenty of boats caught 1s and 2s, but the best days I heard of was 4 from 4 on Kanahoee for Capt. Chris "Sharky" Miles on Saturday, and a 4 from 8 on Sea Baby IV with Capt. Chris Jolly yesterday.  Chris says they were all caught on lures including a triple header of the little wrigglers!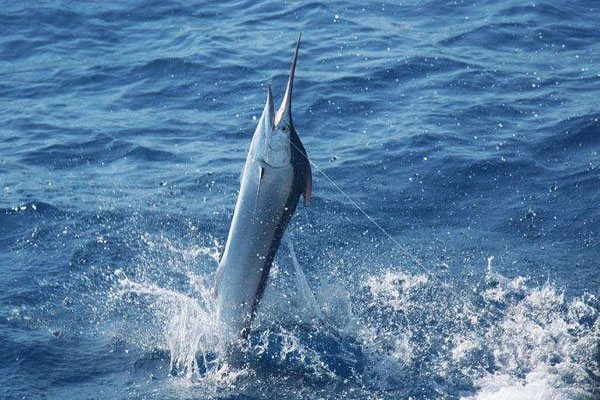 1 from 2 for Sharon Poulter on Think Big on Saturday. Paul says they raised another 7 yesterday fishing out the back of Fitzroy.
Likewise, Townsville's run of great weather continued and while some headed back to enjoy the little blacks still in residence at Cape Bowling Green, a small contingent decided to make the most of the conditions for their first heavy tackle hit out of the year off Myrmidon Reef.  Anthony Richardson joined Anthony Florence and Todd O'Shaughnessy on Anthony's 575 Cruise Craft Flotation where they found acres of yellowfin and bait, as well as really great currents. They jumped off a 400-500lb black on a tarpon but with the fish immediately jumping toward the boat, couldn't set the hook before the bait was spat. And the Nicolosi family on board Zuri also came across a 150lb black but it also managaed to get its freedom.