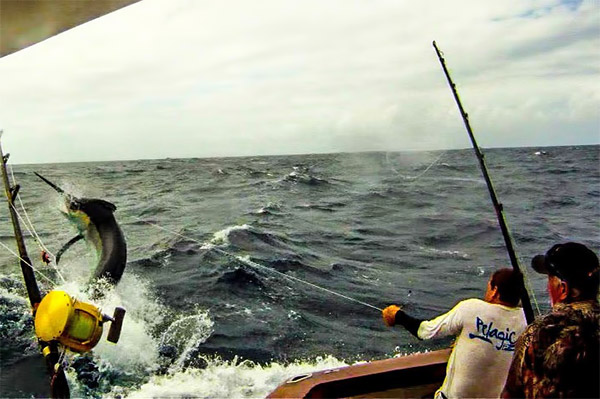 How's this for a way to start your Cairns marlin fishing season? Capt. Corey Hard's team on Askari have just wound up their first heavy tackle trip of 2012 with 10 marlin in 4 days fishing. On day 1, his anglers were treated to the worst of the recent blow straight up that left them regretting the choice to eat lunch. They also had a marlin up that afternoon that thankfully fell off enabling them to regroup and steel themselves ready for the weather on day 2.
And the fishing just got better and better with one particular hot afternoon bite putting them on a 700lb fish, that was so closely followed by an 800lb-er, the angler was left complaining he didn't have enough time to finish his smoke!
Already chuffed with a top trip in the trying conditions, plans were put in place for an early finish into Cooktown yesterday. But the fish had other ideas.  With two already released in the 3-400lb range by 3pm, they spent the next hour and a half on a fish that Capt. Corey put at 950lbs before running in. What a top way to finish a great trip!  I hear there is some spectacular footage on its way, can't wait to see it!
Yesterday's weather was a resounding relief after several days' battering, and it will continue over the next few days as well.  Enjoying it on the first day of a new trip, Capt. Darren "Biggles" Haydon and crewmen, the temporarily repatriated Bo Jenyns and Bermi's Dean Ford, on Calypso.  After a fantastic first trip (see the two previous reports for the full details), they were straight back into the action yesterday with another three fish in the 250-300lb range.
I also heard from Melbourne-ite Andrew Pennisi who was back in the north last week. Andrew sent me a report from his 4 days fishing with Complete Angler's Chris Baty on Viking II.  Andrew says they finished up with 5 from 8 black marlin up to 550lbs as well as a whole range of bits and pieces, GT's tuna, Spanish mackerel and the like from behind the reef to break up the atrocious weather.
Having a couple of days rest in Cooktown, crewman Ryan O'Halloran, who's back on the GBR this time on deck for Capt. Ian "Wobbles" Ford on Hot Shot , sent me the great shot above from their last trip (top). Thanks Ryan!
Marlin off Gladstone
We first met Tim Otter and the rest of his 4.2m Mangrove Jack crew at the Townsville Tournament having trailered his boat up for the comp. Tim made some good contacts at the tournament, among them Capt. Jim Dalling, who gave him some pointers of where to target them in his home waters.  And success!  Tim emailed me to let me know he now has his first Gladstone black marlin caught off Masthead Island single handed in 23m of water (23.2 degrees). Congrats Tim – hope its the first of many!