On their first day heavy tackle fishing for 2012, and after a late morning start out of Cairns, Bob Hill's Maitai started their season off with a bang catching a big black marlin just shy of 900lbs for Bob's wife Cherekee. Cherekee says they caught the fish at Linden bank yesterday afternoon and it took nearly 2 hours to get to the boat. Unfortunately, the fish died during the fight so she was brought aboard and weighed.  Click here to see the photo.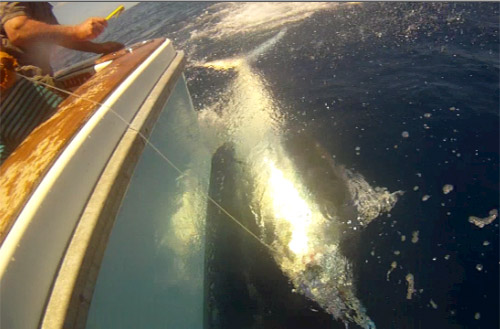 Meanwhile, fishing nearby, Capt. Steve on Hellraiser sent me the above picture of another big black that he put at 850lb he released yesterday. The angler, Bill Burkinshaw celebrating his milestone 70th birthday with a big one!
I also heard from Gold Coast tackle-man Raffi Manjikian who is aboard the private boat Revive a 70 foot Bertram with Capt. Leigh Bradshaw and are making their way to Lizard Island.  They opened their heavy tackle account yesterday with a 650lb black marlin at Number 3 Ribbon Reef that Raffi said gave them an awesome aerial display.  The angler was owner owner Bill Vautin.