Lots in today's report – heavy tackle marlin fishing Cairns, Fraser going off for the juvie black marlin and Sunshine Coast GFC Spring Shootout results.
Cairns Heavy Tackle Black Marlin Fishing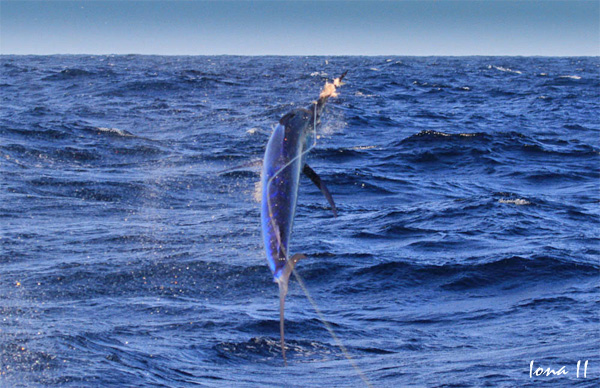 Little Audrey's Capt. Daniel Carlson was on the fish again yesterday releasing two on the Ribbons that he put at 700lb and 250lb – on fire in relatively quiet conditions. Meanwhile, Capt. Adam Jordan, back from his annual Bali vacay, got one at 550lbs on Iona 2 with another great action shot from Rhino above and the video here.
Rob Wood has sent me an update on the insane Fraser little black marlin (and sailfish) action that's going on right now.
Rob says they are welcoming back the El Nino weather pattern as large amounts of small black marlin arrive at the Spit. He recently fished the spit crossing the 13 mile crossing at 8.00 am to hook up straight away.
Rob says he usually runs three rods and had three fish on the lures every 200 metres! They lost plenty of fish using lures, with most of the fish were only 5kg to 10kg and also found sailfish and hooked and tagged one about 40 kg.
With the lures not sticking they searched for bait schools and found small bonito and pilchards. The small bonito were ideal and just running teasers, they pitched live baits for multiple hook ups, hooking somewhere between 30 to 50 blacks in four hours!!
They tagged 11, and with the shine wearing off (or wearing them out!) and they decided to chase some heavy tackle fish (unsuccessfully).
Rob says its shaping up as a great year for Fraser and if you are interested in fishing Fraser from a trailer boat, the Thirteen Mile Crossing is some 42nm from Bundaberg and fifty odd miles from Hervey bay and local knowledge is required to cross the bar at the northern tip of the island. Overnighting can be achieved at Rooney's point. Vmr Hervey Bay or Bundaberg are on channel 22, 67 and 81. For those in bigger boats  Marinas at Hervey Bay or Bundaberg are best points for fuel and berths . For more info on the area call Rob (Wood) on 0427 590 995.
This year's tournament came down to the wire after good weather conditions blessed the fleet over the 2 days of fishing.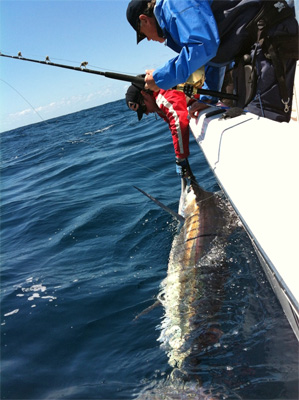 Day 1 saw SCGFC President Brent Higgins with wife Sarah and dad Barry take the lead on Walk the Line with a tagged blue marlin on 37kg (after dropping another just a few minutes earlier). For many it felt like de ja vu of the 2011 event however Roger Bayzand's Blu Reela made junior angler Josh Allwood's afternoon with his first ever marlin (below), a little black tagged on 8kg. Club Sponsor Team Telstra fishing on Spot On had a exciting afternoon also tagging a little black, unfortunately it was on a soft plastic on braid so wasn't eligible.
Other day one highlights included a pending Queensland wahoo record for the Reelax Team on Razza of 27kg on 8kg line. Mark Holland also weighed a 24kg cobia on board Black Mamba.
Day 2 saw more boats concentrating on bait schools off Noosa and Wayne Finlay's Keneka got off to a flying start with 2 blacks and a sailfish on the first sked to Mick Huestis. A fourth little black which would have decided the tournament was hooked and unfortunately jumped off.
A number of other fish were seen, hooked and lost for the day. Kelly Fenwick on board Never Home weighed a great 11.7kg longtail tuna to wrap up the Champion Female category. In the end Walk the Line held on to win overall 2 years running.
A very social event again with lots of sore heads and tall tales.
Final Results
Champion Team – Walk The Line SCGFC
Champion Overall – Barry Higgins SCGFC
Champion Female – Kelly Fenwick MGFC
Champion Junior – Josh Allwood SCGFC
Champion Over 7m – Keneka SCGFC
R/Up Over 7m – Blu Reela SCGFC
Champion Under 7m – Walk The Line SCGFC
R/Up Under 7 m – Black Mamba SCGFC
Thanks Brent for the update!