A few more fish in the north each day although we are still waiting for what Capt. Peter B used to call the main body to move in.  Russell Caphorn's Kaizen fought a big fish for several hours while Capt. Brad Craft on Castille III fished the middle for two fish.  I also heard from Craig Singleton who tells me they kicked off their heavy tackle season on his boat Maverick yesterday with a 450lb-er in the Middle Ribbons in the first half hour of fishing.
More Fraser Island Black Marlin News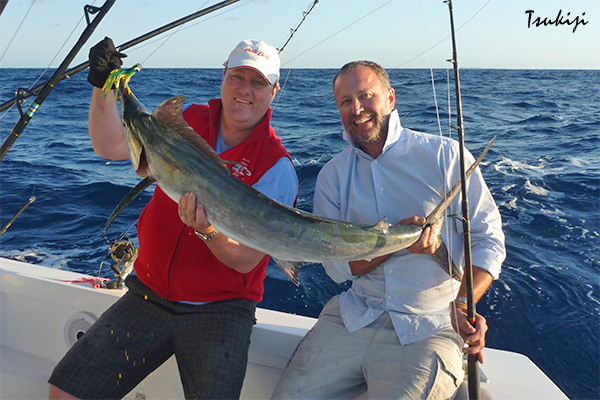 Our 'mate' Jarad "Dingo" Boshammer's father Sid (it used to be the other way round hey Sid!) tells me that a friend of his fished nearby Rob Wood on Sunday and raised 30 and tagging 4. Sid says that Scott Mitchell caught one inside the bay on a soft plastic and was out again yesterday. Sid says that they should be catch them sight-fishing again on the Roonies Beach this season.He's fishing light tackle in the Hervey Bay Nov 9-11 so we look forward to hearing how that goes.
I also had a report from Peter Jenyns, who was delivering a boat to Airlie, went through the 13 Mile area late on Saturday afternoon. Peter said that the area was alive with birds and dolphins and almost immediately upon arrival he ran over a bait ball on the sounder and hooked up. What followed was 2 hours of madness! They were hooking fish well into the dark before running into Bundeburg for the night and sadly having to keep on heading north the next day. Peter said that all the fish were small black marlin around 15 – 20kg and with a fairly inexperienced, but very excited crew, they finished with 4 from 16 shots.  Photo above is Tsukiji owner and angler Jim Stening on the right, with his brother-in-law Rob Wilkins on the left.
Sunshine Coast GFC's Club Captain (Smithy's Fishing Charters) Rob Smith also sent me some of what he has heard from up there with plenty of his club boats planning on spending some time in the area as well.Rob says that Kenny from KJ Charters at Hervey went out on Sunday with 4 new club members, none of whom had fished for billfish before. They had their first hookup within the first 50 metres of lines in with the he stats 21 strikes, 15 hookups and 6 tagged black marlin in the first hour!  He lost count of how many strikes and hookups after that but tagged 11 in 4 hours. Rob also reports that Jason Boule tagged 11 as well on his US import and that Mark Bargenquest got 6 from 10 on fly on the inside.  SCGFC club boats Reelaxn and Kamikaze are already up there with Trent on Kamikaze reporting  6 from 7 on their first day starting fishing at lunch time before leaving to move on to Lady Musgrave.
Samoa with Al McGlashan
Al McGlashan's been at it again with some awesome above and below water photos, this time from the oceans of Samoa. Al spent a week over there catching everything from blue marlin to mahi mahi and sailfish to wahoo and these are some of his gorgeous pics. Thanks Al!