Cairns Update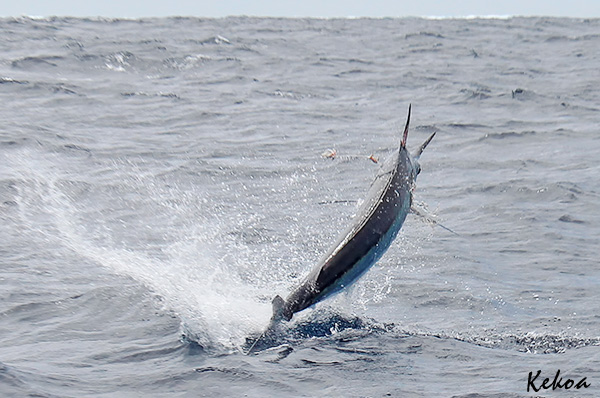 The Keinath brothers are back on the Reef with Capt. Corey Hard and the team on Askari, mothershipping with Capt. Chris "Sharky" Miles' Kanahoee and Capt. Brett Thomas' Gorilla. They started their 14 day adventure yesterday with a lively mid-ranger in the morning for Askari, while Kanahoee got one of a similar size mid-afternoon.
Corey says they also just finished up a 3 day trip in Cooktown on Wednesday which saw them with 5 fish on and fighting, but all of which fell off except for 1, thankfully realising the 37 year old anglers dream of catching a black marlin.
We also broke our hoodoo on KEKOA for Argentinian angler Carlos yesterday with a 300lb-er in the middle (above), his first black marlin, putting to use all that great bait we've been catching!  We pulled off a second later in the afternoon as well.
With the start of the Lizard Island Black Marlin Classic this Sunday, more boats are moving north and heading to the Rock. Capt. Laurie Wright will be back at the wheel for the week on Paul Poulter's Think Big and I've already heard from the 'Pommy' team of Phil and Stewart who are in transit from the UK (22hr flight!) to fish the tournament with Capt. Brad Craft on Castille III – ready  to take Lizard by storm!
Another familiar face at the Island this week, though not fishing the comp, is Capt. Jim Dalling who is at the helm of Absolute.  Dad tells me they had their first fish yesterday at Hicks Reef, and while the report was zeros, the water looked good.
Down the other end of the reef, a catch up report from Capt. Ian "Wobbles" Ford on Hot Shot who caught two little ones at Jenny Louise on Wednesday. They jumped off another yesterday but Wobbs says he hasn't seen any big ones there just yet.
For those who enjoyed the 'fish coming aboard' photos from Little Audrey from a few days ago, you can also enjoy the video of the action from four different camera angles!  Jeff sent me the clip for you to enjoy. What I want to know is who copped the chair back in the head? Ouch!  Capt. Dan finished up his trip with 5 in 6 days to 700lbs which is great fishing in these conditions.
67 Black Marlin in 2.5 days at top of Fraser
What a run for Heath Irvine, Jay Graham and Brett Barton from the Sunshine Coast GFC who I mentioned yesterday had Heath's 33″ O'Brien Kamikaze up at the top of Fraser Island.  They came back into phone range yesterday and word quickly spread. 67 juvenile black marlin releases in 2.5 days of fishing!
Heath says that all the fish were caught off Break Sea Spit and between the 5-25kg range. He said it was non-stop action the whole time with multiple doubles and a few triples which made it interesting as there was only 3 of them on board (leaving Heath to wind in a few from the flybridge!)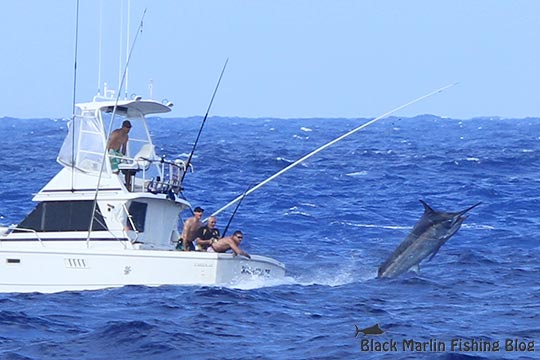 The Irvine Brother's have certainly been getting amongst the fish. You might remember the boys had Kamikaze in the north last year (and I captured this shot of them reversing on a nice one).  And Heath's brother Trent (Reelax-in) recently fished Koala Rompin in Malaysia for something like 36 sails in 4 days!
Rob "Smithy" Smith also tells me that the blacks have also hit the Gold Coast.  Smithy said there was a photo doing the rounds yesterday of a tailer in 10 fathoms.  He had 24 deg for a while off Noosa yesterday. Its all hotting up!
Coffs Harbour Update
Report from Rick who tells me its still pretty quiet in Coffs, and looks like being a later than usual start to the summer season. The fish are all still a fair way out, with striped marlin unusually being caught out very wide to 55 miles. Rick says that the tuna activity is pretty good at the moment though, with the fish being found in good numbers wherever the bait is available.
Glen Booth and the Wicked Weasel boys had a good Sunday in fairly uncomfortable conditions when they found a fast-moving school of yellowfin tuna out in 1000 fathoms. The fish were working fairly deep and they didn't even realise that the YFT were there until they got hits from two nice fish pretty much out of the blue. By the time they got the 35 and 40 kilo fish into the boat, they were surrounded by a lot of bird activity and scattered surface bait and everything was starting to look pretty fishy. They followed the tuna for a few miles, eventually timing things so that they were right over the spot where the fish came up and quickly snagged another two in the same size range which were tagged and sent on their way.
Soon after that, they raised a small striped marlin in the pattern, and the boys were thinking that the pounding they were taking from the weather was all worth it. The stripe grabbed the lure and ran for a bit, but it jumped off and that was the end of what was still a pretty good day.