26 boats lined up for the start of the Lizard Island Black Marlin Classic yesterday and while it was slim pickings for most of the day, there was a late flurry of small fish just before cease fishing to keep things interesting.
10 fish were tagged amongst the fleet and tournament base has the following standings: Viking II with two tags (600 & 300lb to Jim Wild), Onsite with two tags (150lb x 2 to Graham Whiticker) and Little Audrey with two tags (150 to Jamie Blewitt and 700lb to Miran Lindtner).  On one tag each are Moana, Think Big, Calypso and Castille III.
Outside of the competition, Capt. Chris "Sharky" Miles on Kanahoee started his day off with a juvie black marlin behind the reef while bait fishing (caught on a bait lure) and finished off with a 600lb-er on the outside of the reef that was hooked in the dorsal and took them out to sea.  Nearby, Capt. Brett Thomas on Gorilla released a nice fish that he put at 850lbs for his anglers.
Capt. Jim Dalling, fishing on Chris Herbert's Absolute was back out yesterday again and had another bite out of a big fish on 2nd Corner at Number 10.  There was also a flurry of tournament boat activity at Heartbreak (Castille hooked up to another two there but unfortunately for the points, could not stay connected) and some boats fishing up at Day Reef found a few as well. Capt. Damien Collette on Saltaire, who is up at the island with the Nomad crew, released a 200lb-er at Day Reef as well.
I'm back on Twitter for the live updates again today. You can follow (without a twitter account also) here.
And don't forget to enter the Tonic Eyewear competition (see post below) if you haven't already. Remember 26 boats fishing 7 days. Entries close at cease fishing on Thursday, just in case you were thinking of counting! ;-)
Fraser Island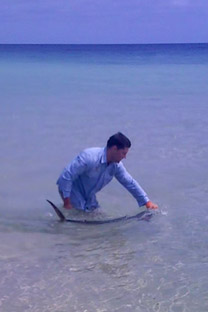 Sunshine Coast GFC Club Captain Rob "Smithy" Smith went up to the top of Fraser Island on the weekend in the 18 foot Grady CC Yerbs with Dan Smith and 'Yerbs'.  Rob said that some green colder water pushed the blue out and they saw more at Rooney's inside than outs.  There were also a few free-jumpers around. They ended up 1 from 2 at Rooney's and also saw a free-swimmer and a free-feeder there.  This is a photo of Dan's fish on a skip yakka on 6kg.
The marlin was about 7kg in 8m of water.