A better day for tournament competitors in terms of numbers, but also a number of BIG fish showing their faces both in and out of the competition!
In the tournament, on board KEKOA, we recorded our first grander of the 2012 season on the first sked for Brendan (photo below as we gave chase) which was also the first grander marlin of the tournament.  Brendan has done 9 seasons fishing the reef with Capt. Luke Fallon now all up and has put a lot of effort into getting this fish. He's gone close on several occasions, but has finally hit the 1000lb mark with an awesome fish that gave him a good fight in the wet yesterday! We followed up with a second nice fish later in the day, that Capt. Luke put at 650lbs also for Brendan, to enter the scoring.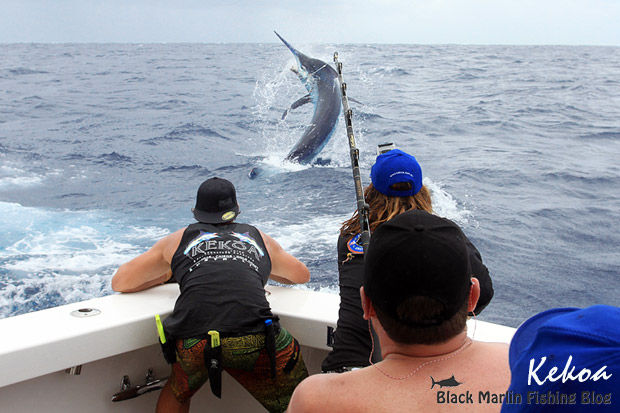 Brendan's 1000lb black marlin on KEKOA during the tournament yesterday.
Outside the tournament but also in the big fish, Capt. Craig "Sparra" Denham on Square Bear/Bounty Hunter, released a top fish that he put at 950lbs at Linden Bank. Sparra also released a smaller fish and had a go at another big one right before lines in.
Back in the tournament, Capt. Laurie Wright, who is driving Paul Poulter's private boat Think Big for the week, put in a top day yesterday with three fish to take the tournament lead on four total. One of these was also a solid 850lbs for Paul.
Capt. Ross Finlayson's Top Shot also entered the scoring late in the day on the 3rd sked yesterday with three in a row at 200, 300 and 400lbs which took them straight up to second place in the standings.
Other boats with fish on day 2 include, Maverick with 2, Lady Columbo, Mistress and Reel Chase with 1.  Total of 13 fish tagged for the day.
Current standings are: (Tournament base has corrected the points for Onstrike who only caught the one fish on Day 1. I wondered where that second had come from because I didn't hear it on the radio!)
Think Big on 4, from Top Shot on 3, Viking II, Little Audrey, Maverick and KEKOA on 2 each and Moana, Calypso, Castille III, Onsite, Lady Columbo, Mistress and Reel Chase on 1 each. That's half the fleet on the board now.
More from outside the tournament, Capt. Ian "Wobbles" Ford on Hot Shot released a 450lb-er at Spur Reef, while Capt. Tim Richardson on Tradition got a 400lb-er in the middle.  Capt. Haydon Bell on Release also release two from four bites at the bottom.
Capt. Brett Thomas on Gorilla released a couple in the Middle, while Capt. Chris "Sharky" Miles on Kanahoee added another to his increasing trip tally sheet!
MySpace too also ventured out to Linden Bank, where "Mick the Plumber" opened his account early in the morning after a 52 year wait with a fish of a couple hundred pounds. They also pulled hooks on a bigger one later on.
20 years and counting!
I had an email from Lauri Pennanen aka The Fishing Finn who tells me he's heading back to the reef again in November to fish his 21 consecutive year giant black marlin fishing. Since his first trip in 1992, Lauri hasn't missed a year and is curious if there are any other anglers with similar stories?  Lauri says he has fish with many of the famous skippers and caught all sizes of fish. Here's hoping 2012 is another great year for him!
Back to Weipa
I've noticed that there has been a little more billfish action over the other side of the tip with Ben "Nosto" Bright inducting two new members into the 'billfish on fly club' with a sailfish each last week.
And in another first, young angler Dylan Roberts, at only 9 years of age, caught his first sailfish on Sunday as well – 1 from 1 on Striper.  Thanks Andrea for sending in the pic and report.