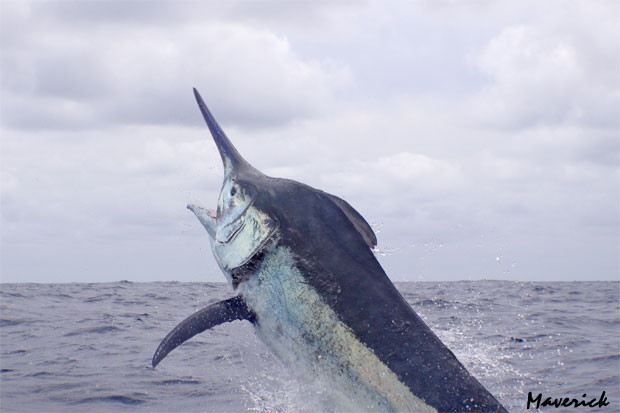 The lines were only briefly in the water when Maverick called in the first hookup of the day.  And after a long-ish wait, we suspected it would be a good one. And it was, with the fish called in at over 1000lbs for Townsville GFC angler (and recent birthday boy) Greg Gilbert.  I'm not sure what it is about birthday's and granders this week, but I should also point out that Brendan, who caught our grander on KEKOA on Monday, also celebrated his birthday on Saturday.
The Townsville connection came again with the second big fish of the day called in at over a 1000lbs this time by TGFC's Mick Meirs who is driving Hervey Bay based Rampage in the competition.  According to Mick, they went pretty hard after the big girl and had to spend some serious time getting the water out of the boat after.
Also on a big fish early, Capt. Russell Gage on Too Easy, the second nice fish Gagey had hooked up in the comp.  Unfortunately, they lost this fish too and there was a palpable sigh from the rest of the fleet for one of the GBR's favourites who has returned this year after an absence. Happily though, they made up for it later in the day recording a 900lb-er for Robby (Crane) on Number 4 Ribbon.
Cresta's Afishionado with Capt. Simon Carosi, also hooked up and tagged a nice fish at 700lbs at Number 8 Ribbon to enter the scoring, while Cool Runnings did likewise with a 500lb fish for Brad Pretti.
Speaking of Cool Runnings, Chris sent me these photos of his 1000lb fish from Saturday at Number 10 Ribbon (on the way to Lizard for the briefing). Chris sent me several more good shots which I will share (very soon) but I like this one with a certain boat in the background! ;-)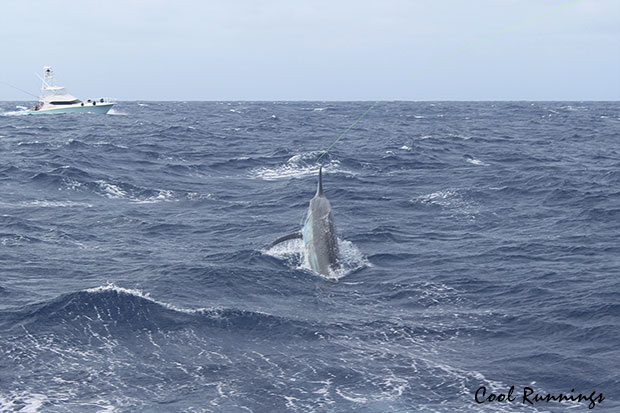 If you're in the mood for grander video
From big fish to small – Capt. Ross Finlayson on Top Shot tagged the smallest fish we've seen outside the reef for the comp at a measly 30lbs!
And a few other boats entered the scoring on Wednesday being Mauna Kea and Sea Baby IV. While Mistress, KEKOA and Little Audrey also added smaller fish to their totals.
The current standings are: Think Big from Top Shot on 4 tags, Maverick, Little Audrey and KEKOA on 3 tags, Viking and Mistress on 2 tags. On one each are Moana 3, Calypso, Castille III, Onsite, Lady Columbo, Reel Chase, Cool Runnings, Rampage, Afishionado,Mauna Kea, Too Easy and Sea Baby IV.
And out of the tournament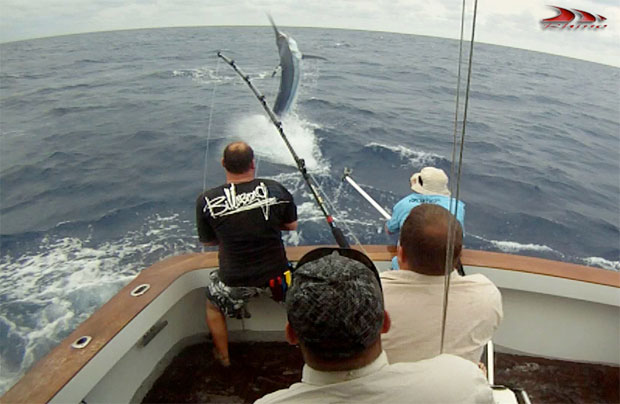 Capt. Damien Collette's Saltaire has three fish in three days right up the top adding a 200lb-er at Jewel on Monday and a 350lb-er yesterday. Iona 2 with Capt. Adam Jordan got this 550lb-er for Marcus Green (above). And Capt. Craig "Sparra" Denham added a 350lb-er as well down at the Bank.
I also had a report of some very big fish at the bottom. Stretch on Chamois Free told me they released a fish they put at well over the mark for Bonnie Rylands, her first marlin, at Spur Reef. And Reg More on My Space Too, was at it again on the bank and put young Rhys Moore on a fish that he put right up there, after a 45 minute fight (photo below).