Day 4 of the Lizard Island Black Marlin Classic marked the 4th grander of the tournament, this time caught on board Viking II late in the day's fishing at Number 8 Ribbon Reef. Viking also caught two smaller fish to take them into contention for the lead.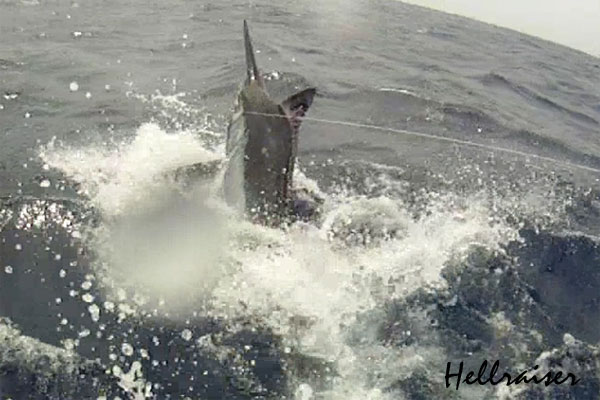 But it wasn't the only big fish of Day 4. Hellraiser made their first fish on the tournament count with a 900lb-er in some very trying conditions to Sue Ahlers (photo above).  On KEKOA, we got another nice one at 750lbs for Rick (photo below I think gives you an idea of just how windy it was!).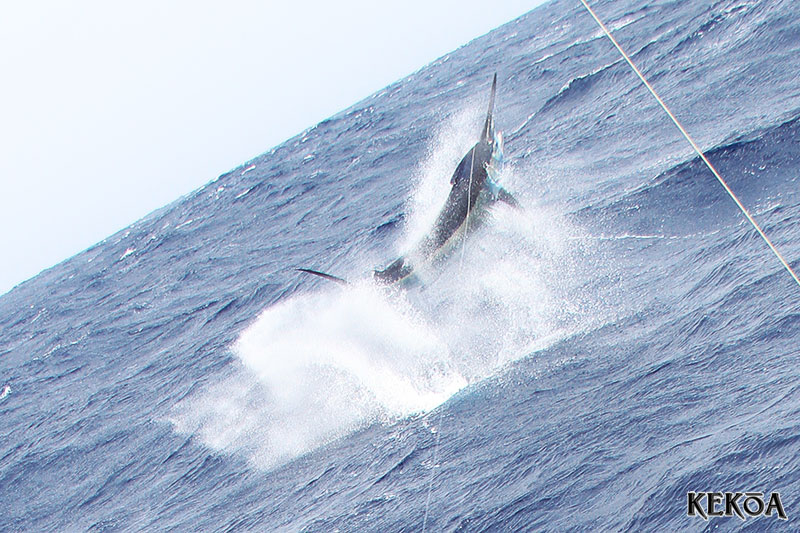 And after a run of smaller fish,Top Shot added a nice one at 800lbs for Japanese angler Tominori Nori, as well as two more to give them the daily prize and take them to the lead in the comp.
Little Audrey, Calypso, Think Big and Maverick all tagged one fish each, while Mistress added two smaller fish late in the day as well.
And Capt. Chris Jolly on Sea Baby IV had an unlucky day, dropping two fish after tagging a small one – the first fish of the day.
Current standings: Top Shot on 7 from Think Big and Viking on 5, Little Audrey, KEKOA, Mistress and Maverick on 4, Sea Baby IV and Calypso on 2, Moana III, Castille III, Onsite, Lady Columbo, Reel Chase, Cool Runnings, Rampage, Afishionado, Mauna Kea, Too Easy II and Hellraiser on 1 each.  That's 20 of the 26 boats fishing on the scoreboard now.
Outside the tournament
Capt. Tim Richardson on Tradition started a new trip off yesterday with a 600lb-er for Stephan from Germany (photo below).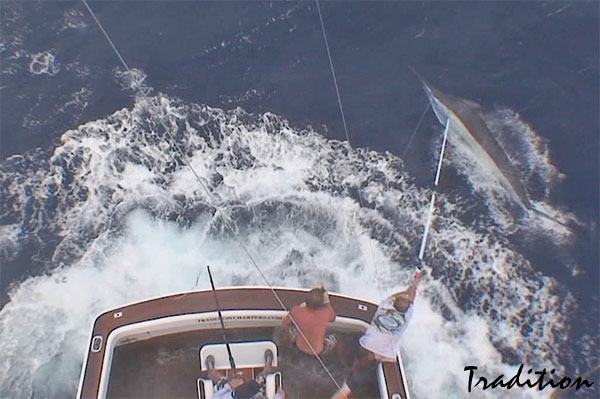 And that's all I heard of from yesterday when conditions kept many off the water.
Don't forget, today is your last day to enter the Tonic Sunglasses "Guess the total number of fish tagged" competition.  See this post for all the details.
Another shot of Cool Runnings marlin from Saturday below as promised.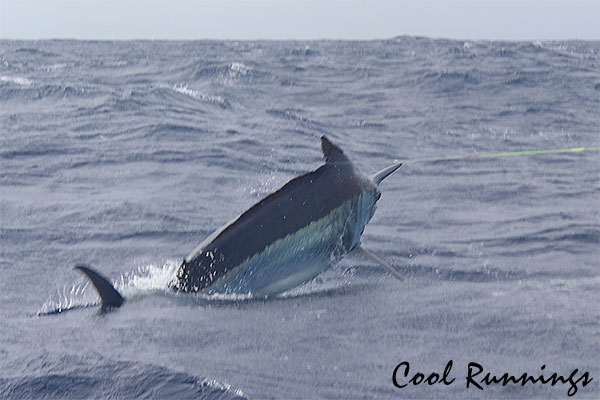 First Sailfish for Daniel
Master crewman Jarad "Dingo" Boshammer may be missing the reef this year, but he's been having a time of it fishing all over again this year.  This week Dingo and his Capt. Danny Ford put young Daniel Ford onto his first sailfish for his 10th birthday out of Jupiter, Florida. Fishing on Tenacious with his father and Dingo, the boys had a stella day also catching 9 dolphin fish. Congratulations Daniel!