Day 5 saw a run of smaller fish, with Top Shot once again taking advantage to propel the team further in front, converting 3 in the 2-350lb range.
The big fish award of the day (my award only – there is no award!) goes to Capt. Brad Craft on Castille III who called in a fish that he put at 950lbs for angler Stewart from the UK.
Capt. Laurie Wright on Think Big converted another for angler Sharon Poulter (who must be leading the Champion Female standings by a fair margin) to stay in the hunt. But along with Little Audrey who caught two yesterday and Viking, who caught one, they have a fairly hard slog ahead to catch up to Top Shot now.
A couple of more boats also entered the point scoring yesterday and Reel Chase had a particularly good afternoon releasing two at 250 and 600lbs.
The current standings are: Top Shot on 10, Think Big, Viking and Little Audrey on 6, Maverick and KEKOA on 5, Mistress on 4, Reel Chase on 3, Sea Baby IV, Calypso, Afishionado, Mauna Kea, Castille and Onsite on 2 and Game Over, Moana, Lady Columbo, Cool Runnings, Rampage, Too Easy, Hellraiser, Levante and Iceman on 1 each.
Lady Columbo tagged a fish yesterday but to a non-competing angler so self disqualified the fish.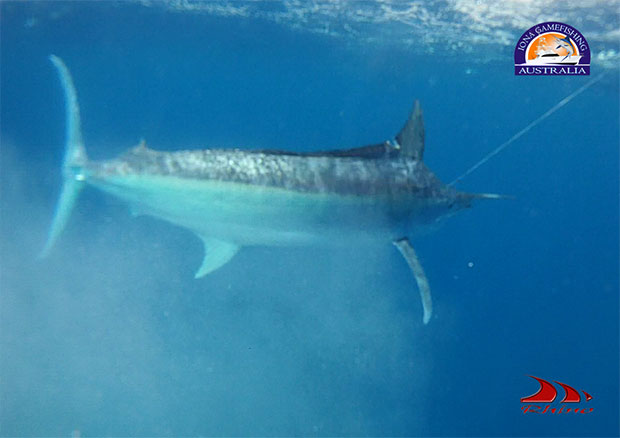 Outside the comp, many local Cairns boats waiting for the weather on the weekend to get out to the Bank down there. Iona caught this 400lb-er above for Scott Beaumont. Capt. Adam also raised a big girl that wouldn't eat yesterday.