It was another big fish day of fishing at the Lizard Island Black Marlin Classic on Day 6 of the competition. Finally the weather cooperated and it was an all-round enjoyable day on the water.
The fishing started out slow as it has over the past week – these fish really do keep gentlemen's hours – but once it got going, it went from strength to strength.
Onsite kicked it off early with a small fish at Number 8 Ribbon Reef. Then the big fish started to make themselves known. Levante called in a hookup. 10 minutes later it was tagged at an estimated 800lbs.
Then Capt. Ross Finlayson on Top Shot, who it seems could comfortably sit out the final day's fishing and still romp home to win, hooked up. As the minutes ticked by without a tag called in, we knew it would be a nice one. 45 mins later they called it tagged – a massive fish that Ross put at 1200lbs! Meanwhile Maverick had hooked up again wide of Ribbon 8. Again the minutes ticked by, and it was called in at 1100lbs for Craig Singleton, a grander to go with co-owner Greg Gilbert's earlier in the week (I hear that upon consultation with the photos/video, they have now called it 1200lbs! Photo below.)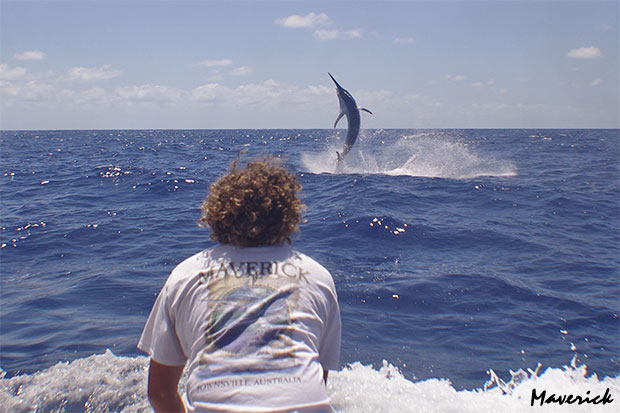 Soon after, Capt. Simon Carosi at the helm of Afishionado hooked up to a nice fish which they managed to also satellite tag before release (the first fish to be satellite tagged in the comp so far). Conveniently, we were nearby and I was able to get some great pics including this one (below). Capt. Simon called this fish 850lbs for Cresta's Tim Ballintine.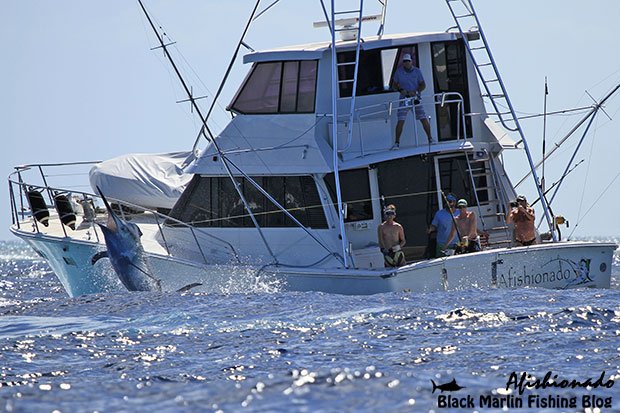 But the day wasn't over for big fish, Reel Chase fought a real nice one, which they had on the leader several times (as Capt. Brett said, outside the tournament, they would have called it caught), but the line parted before the tag could go in.
And Levante, who already had a big fish for the day, hooked up to another beauty they put at 1100lbs, tagged inside of 3 minutes.
Overall for the day, its was another good point-scoring day for the fleet. Top Shot added three tags to their impressive lead, Little Audrey added another two to be their closest 'rival' and on KEKOA we also tagged two (250 & 500lbs) to bring us clear into third place. The fist of the two (250lbs), we noticed interestingly that had two other hooks in it when we pulled it alongside. The second fish gave us some great on the surface action as we sped across the water after her. Because of the glamour day, we had all cameras firing and I was able to get some great photos (below) as well as some top footage on the sunglasses cameras too which I'll be uploading later. (Unfortunately, we have to sit out most of today's fishing and so we'll be watching the leaderboard with not just a little bit of envy!)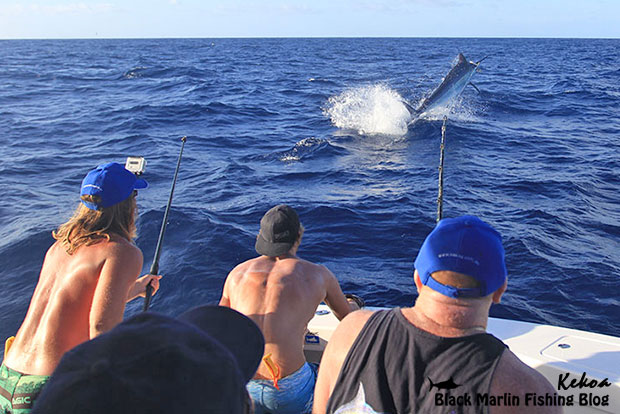 Current standings are: Top Shot on 13 tags from Little Audrey on 8, KEKOA on 7, Think Big, Viking II and Maverick on 6, Mistress on 4, Reel Chase, Onsite, Afishionado and Levante on 3 and Sea Baby IV, Calypso, Mauna Kea, Castille III, Cool Runnings, Lady Columbo, Iceman on 2. on 1 fish each are Game Over, Moana 3, Rampage, Too Easy II and Hellraiser.
Outside the tournament
The two private boats Revive and Absolute are fishing off the mothership De Lisle III and yesterday moved to where the action was on Number 8 Ribbon. Timmy Hiscoes jumped on board with Capt. Leigh Bradshaw on Revive and made the most of it with a quick three fish – including one that he put at pretty close to the magic number for owner Bill Vautin – in a few hours fishing. (They also released a 300 for Taz followed immediately by a 500 for Uwe.) Meanwhile Capt. Jim Dalling on Absolute enjoyed the bites amongst the 'car park' to also convert one mid-afternoon. They should enjoy their time fishing there today as the rest of the tournament fleet moves north to head into the Island tonight for the tournament presentation.
Down the bottom, the better weather saw the My Space Too back out on Linden Bank. With an average crew age of 20 years old and only one on the deck with a little experience, they were chuffed to be able to convert one at 250lber for the day. Angler Jack Moore's first marlin – photo below.