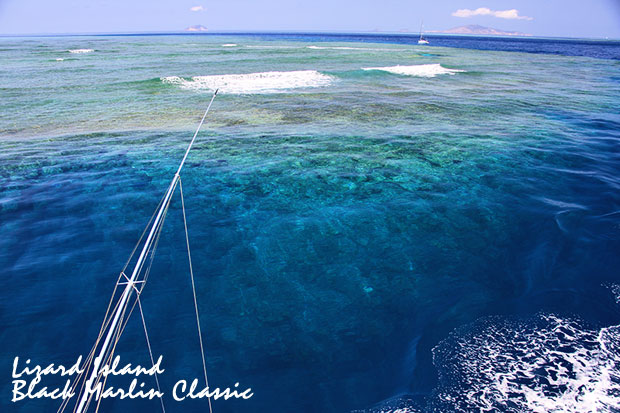 Glamour day on the reef yesterday – Number 10 Ribbon Reef with Lizard Island behind.
The 26th Annual Lizard Island Black Marlin Classic wrapped up yesterday in glorious conditions on the reef – but unfortunately, the fish went beach combing or something too with only the two small fish tagged. This brings the total number of marlin tagged for the comp to 83 and as such, drumroll please, we have a winner in the Tonic Sunglasses competition! Congratulations to Alex Coutts who was the first to guess the correct number (after just an hour of fishing no less!)
But the biggest congratulations must go to the team on Top Shot who scooped the pool last night winning Champion Team, Champion Boat and Champion Angler – Capt. Ross Finlayson, Andy Dow and Jye Claydon on deck and anglers Tominori Omi (Champion Angler) and Naoto Aoyagi.
Top Shot romped home (and even caught one of the two on the final day) to finish with 14 tags, all to Tominori.
Capt. Daniel Carlson's team on Little Audrey came runner-up for the second year running. A great results for the 24 year old skipper.  Runner-up Champion Angler was Jim Wild on Viking II who caught all of his team's 6 fish. Champion Female Angler went to Sharon Poulter on Think Big with 5 of their 6 tags, while Runner-Up went to Sue Ahlers on Hellraiser (not Miran on Little Audrey, hey Miran ;-))
Final Standings: Top Shot in first place with 14 tags. Little Audrey in second place with 8 tags. KEKOA held on for third place with 7 tags from Maverick. Think Big rounded out the top five with 6 tags.
It was another big fish comp in 2012 with 7 giant black marlin over the 1000lbs mark tagged and several more going close to the magic number.  All 7 are eligible for entry into the Lizard Island 1000lb Tag & Release Club and will submit their applications with supporting photo and video evidence over the coming weeks.
Big Fish Outside the Comp
I had a catch up report from Capt. Corey Hard on Askari who has been doing some serious celebrating with his team over the past couple of days. On Thursday they caught an 850lb-er, followed by a 900lb-er and the third fish of the day that Corey said was the biggest fish he's ever had behind his boat!
I also heard from Ash Matthews who fished Linden Bank yesterday on the 32 Pirate Sea Fever up from the Whitsundays. Ash says they hooked a 600lber for angler Brendan Egan, only to fight the fish all the way to boat with the leader at the rod tip when it parted. Not to be outdone,  Brendan's 65 year old fishing buddy Ray Saxon hooked a 900lb-er late in the afternoon which was successfully tagged and released. Ash also reports that private boat On Strike with captain Kim Andersen at the wheel tagged a 450lber and jumped off a 600lber along with a couple of other bites.