Central Cairns missed totality during this morning's solar eclipse due to the cloud cover – but I'm told you could see it from the northern beaches and on the reef. What a day to be in port!
Anyways, if you were curious, this is what the partial looked like from the marlin marina.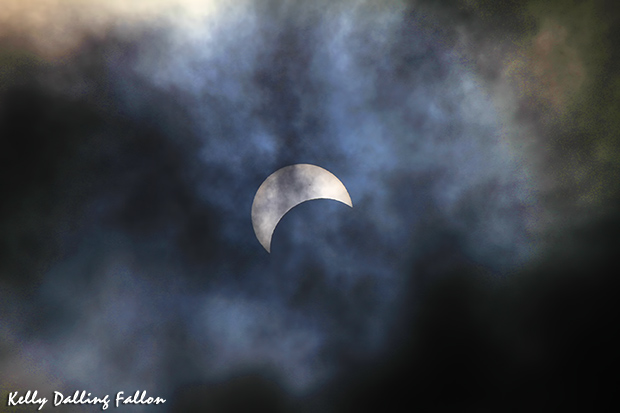 The fishing has been slow for the last couple of days… can we blame it on the eclipse?  Actually, there are a lot of boats in town so I'll blame it on that!
Yesterday Capt. Adam Jordan on Iona II was one of the few that I heard hooked up and fighting. They fought an estimated 800lb black marlin for over an hour before losing a prop, and then the fish as they battled the 25-30knots on one engine.
Catch up reports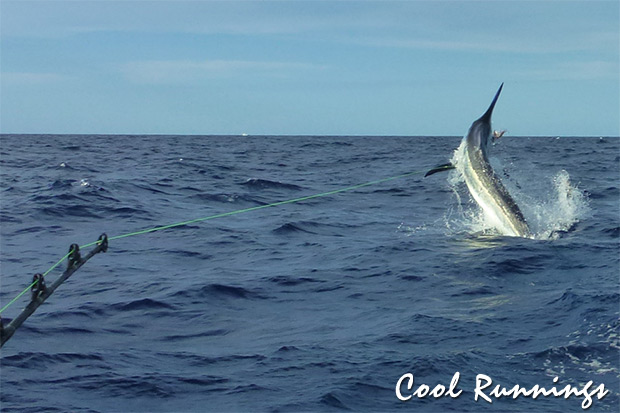 Lauri Pennanen sent me this photo of a fish they estimated 1200lbs he fought on Cool Runnings on Friday. Lauri tells me the fish was very long, wide and thick and quite magnificent. With sunset approaching and all of the team ready for ride home, Lauri gave the fish too much drag and it was finally able to break the line after fair time in vicinity of the boat. The picture is from Lauri's pocket Lumix.  Great shot!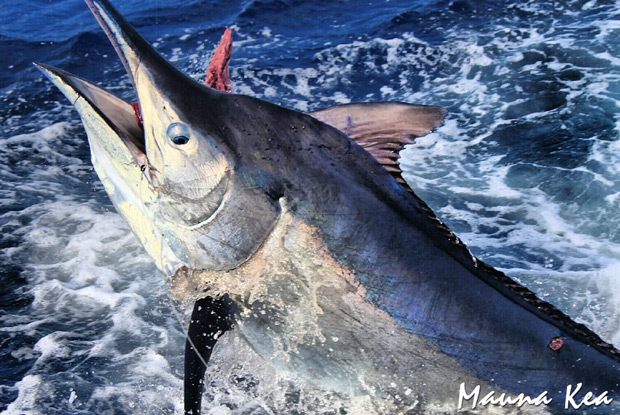 Andy sent me this pic of Steve's fish last week on Mauna Kea (Capt. Brent James put it at 700lb). They returned to Cooktown on Monday night, finishing up their trip with only the three caught. But they averaged 3-4 shots a day, with many hits from smaller fish that weren't eating properly, and 2 big girls that jumped off shortly after hooking up.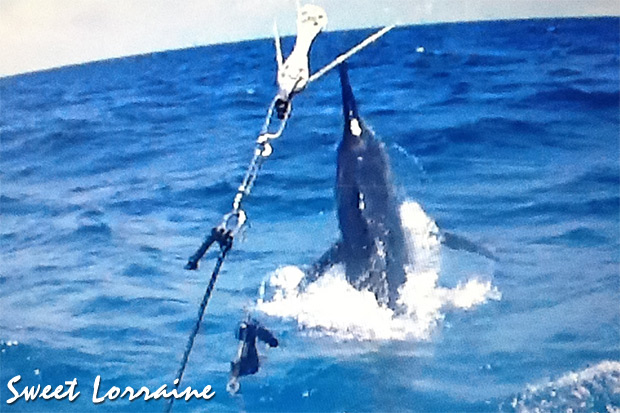 Simone sent me this shot of Mellisa Drawbridge's fish on Sweet Lorraine on the weekend during the Yorkey's Knob Makaira Bullfight.  Fishing only their third heavy tackle day of the season on Linden bank, the two girls fishing on board were hoping for something a bit smaller to open the account.  This one was more than they bargained for – a fish of a lifetime.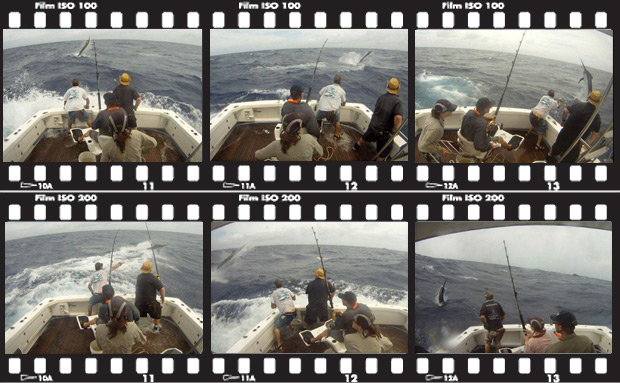 And this is a collection of stills from the Go Pro from Sharon and Paul Poulter's Think Big during the Lizard Island Black Marlin Classic this year.  With Paul fishing himself this year for a change, they had Capt. Laurie Wright on the wheel and were fighting for the lead until mid way through. Sharon took home the Champion Female honours as well so a great result all round.  Most of these shots are of Paul's 850lb-er, but you can also see Sharon in the chair on the bottom right.
We're heading out again right now so more reports from back on the reef tomorrow.