I think we answered our own question there about how the eclipse affects the fishing…with no marlin reports from the reef yesterday, with one exception from Capt. Craig "Sparra" Denham on Bounty Hunter who has Iona 2's guests on board (since the prop was lost) and caught a 100lb black on a lure while bait fishing inside the reef. You might want to keep that in mind if considering booking during the next Cairns solar eclipse in 2237! ;-)
A catch up report from Capt. Darren Sandy's Game Over who caught a 700lb black marlin on Linden Bank on Saturday.
Tournament Report: Hervey Bay Boat Club Tournament
The tournament consists of three sections, the normal Game Fishing Tournament (8kg for waters up to 100m depth, and Heavy Tackle 15, 24, 37 and 60kg  in waters deeper ), an ' Inside Section' for small boats to compete on 8kg tackle inside the bar only (only one entry from A Salt Weapon) and 8kg Saltwater Fly (no entries received unfortunately as this could have been a big hit given the fish!)
The Mothership Tasman Venture was a big drawcard and  after the briefing at the Boat Club everyone took off to Rooney's Point and congregated there to load on sleeping gear and necessary refreshments ready to start fishing. And it was full-on fishing from the outset. Tournament judges Albert and Pauline Threadingham report there was virtually no radio silence with the exception of the 3 minutes crossing the bar!
The final stats were:
Day1: 91 Fish (84 black marlin)
Day 2: 72 Fish (70 black marlin, 1 sailfsh, 1 wahoo)
Day 3: 4 Fish (4 black marlin) [Half day fishing and poor weather affected.]
Most Marlin on a Day:
Black & Blue 21 (total in Tournament 36)
Bull Dog 19 (total in Tournament 22)
Midnight Blue 11 (total in Tournament 20)
Pickle 1 9 (total in Tournament 17)
Salty 6 (total in Tournament 10)
Read the full judges report here.  Thanks to Brad for sending this along!
Tournament Report: Yorkey's Knob Makaira Bullfight
Another successful tournament with 17 boats competing and tags from Mistress, SeaBird, Sweet Lorraine, Reel Nice and Spread em as well as some quality game fish caught including a 22.8kg Wahoo from the crew aboard Reel Cross.
In the Over 7.5m category Mistress won with two tags, while in the Under 7.5m category, Reel Nice took the honours with one. View the full results here.
Tournament Report: 2012 Club Marine Hot Current
Coff's Harbour GFC's President Troy Boulton reports that 38 boats and 166 anglers (including 6 juniors and 7 female anglers) from all over Australia competed. The fishing was blown out on Day 2 (Sunday) but the three other days went ahead.  In the T&R section, 9 marlin were tagged (3 striped marlin and 6 blue marlin) as well as 2 spearfish, 1 mako and several other gamefish. While in the Capture section, 4 marlin were weighed (1 striped and 3 blues) as well as 4 yellowfin and 1 dolphin fish.
The Champion Boat T&R was Chicka. The Champion Boat Capture Optional Extras .  Click to read the full list of results.
Outside Tournaments: Little Black Marlin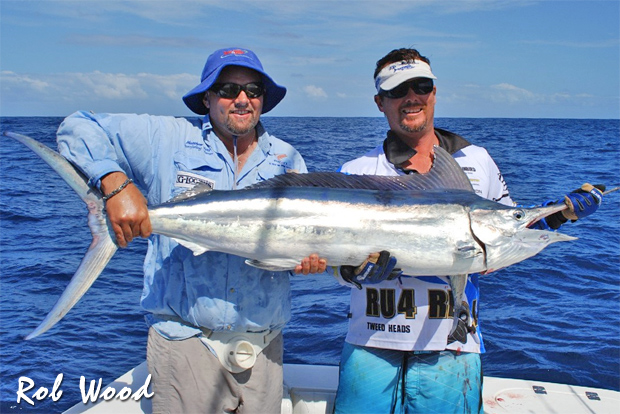 Post Tournament Fraser Island is still fishing well according to Rob Wood (who fished Black & Blue for the event with Gold Coast's Andrew Morely kept VERY busy on deck). Rob reports the Breaksea Spit is stille inundated with an unprecedented amount of juvenile black marlin. The large schools of bonito and pilchards are constantly being harassed by marlin as well as sailfish which range from 3 to 20kg (marlin) and around 40kg (marlin). Rob says the fish are falling for lures, skip baits and live baits with a fast trolling speed on the lures or a fast crunch on the handle to create a reaction bite. (Pic above).
Those fishing for the first time are welcome to call Rob for advice on 0427 590 995.  In close you can overnight at Rooney's Point on the North-western side of the island and small fish can also be caught along here and right down to Moon Point. The fish can be seen quite clearly against the clear sandy bottom and is a great area to site cast to fish with lure or fly.
Heavy tackle fish are also showing up (blues, blacks and stripes)  but not in the numbers of former years. Rob says November is usually a great month for heavy tackle fish off Lady Musgrave and can produce some 200kg  plus fish. Thanks Rob!
As for the much anticipated Hervey Bay Boat Club Tournament Report, I'm expecting it today so please look out for that tomorrow.
On the Gold Coast the light tackle blacks are still keeping everyone entertained weather allowing. This is a video put together of Mark Thornton on Hoodlum's little black marlin on the Gold Coast so far this season.  Mark is using a full pattern of 6″ Larva Lures.