Capt. Craig "Sparra" Denham on Bounty Hunter with guest from Iona II on board found a pod of fish yesterday on the Bank. After bites out of two nice ones, the third one stuck with them releasing a fish that Sparra put at 900lbs for angler Jack. Rhino was on board capturing the action and put together this clip.

Nearby Capt. Russell Caphorn's Kaizen caught a small fish for first time marlin angler Peter Baldwin. They also fought a fish estimated at about 800lbs for Damien Moore, that put on a show for them before unfortunately chafing through the leader.
On KEKOA we had the bite at the death and Mick beat everyone to the chair. And the fish was just like Sparra's, almost exactly the same….but much, much smaller ;-)
However the water looked a whole lot better and so we are hopeful again for today!
Cairns Marlin Hall of Fame Dinner November 24, 2012
If you are going to be in Cairns  on Nov 24, you should be attending the 2012 Cairns Game Fishing Hall of Fame Dinner to be held at the Lagoon Room at the Shangri La from 6:30. RSVP to Donna by email or telephone to 0427 552 490.
The Committee of the Cairns Game Fishing Hall of Fame is pleased to announce the induction of four distinguished new members.
Bob & Dolly Dyer
Jock Izatt
Capt. Bill Edwards
Profiles of each finalist are published in this edition of BlueWater Boats and Sportsfishing now on sale.
More from Fraser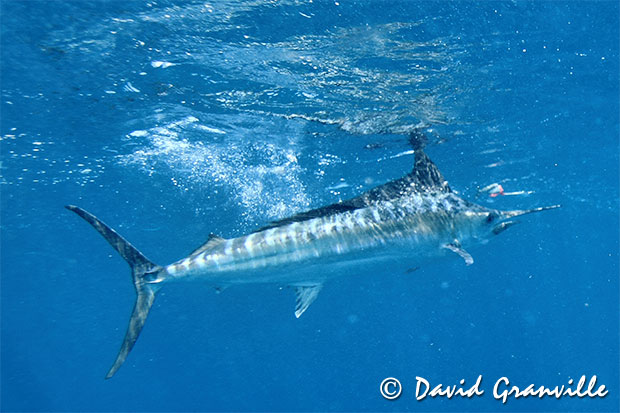 With the little black marlin so thick off Fraser Island last weekend David Granville jumped aboard Megumi and headed up there on Wednesday with the goal of getting some underwater photos. David says he has no idea where they all went in three days or maybe the new moon/solar eclipse had just shut them down there too, but the fishing was very slow. They did manage to tease a couple of fish and David got some great shots for an upcoming issue of FishLife Magazine. Above is one that didn't quite make the grade for the magazine. It's ok David we are happy to take your 'seconds' ;-)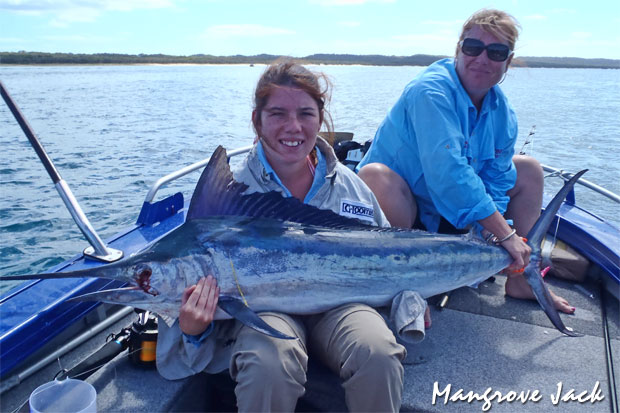 You will remember Tim Otter's Mangrove Jack which was the smallest in the fleet fishing Cape Bowling Green during the Townsville comp. Tim trailered MG down to Fraser Island to chase the little blacks up again with some great results. Tim says they managed to get both his partner Megan, her daughter Jami (14yrs) and Zac, their first black marlin each. Tim says it was a long run up to the inside of Rooney's but well worth the effort. They even hooked one in 4mtrs of water up on the sand flats which was awesome for the kids and Megan to see. The final result was a 6-5-4 for two days fishing. They also got Corey, who was on Mangrove Jack at Townsville, his first black as well. Thanks Tim – congrats!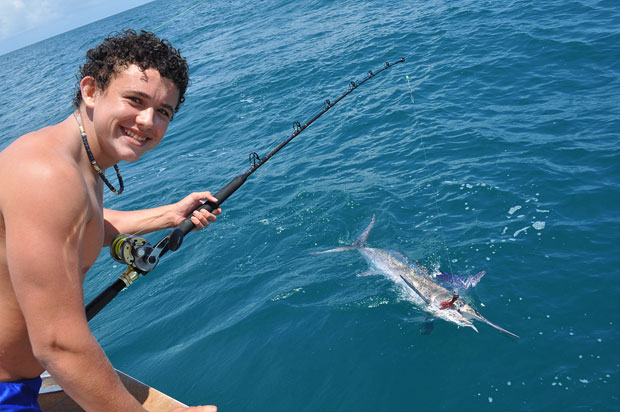 Here is another tournament wrap up from the Hervey Bay Boat Club Tournament from Weighmaster Paul Rosman. Paul also sent me this great shot of son James on a small black marlin.  Thanks Paul!