Yesterday saw a few more fish making themselves known along the edge off Cairns from Spur up to Opal Reef.  Capt. Hayden Bell on the Release caught two around the 400lb mark and had a third fish about 600lbs come off at the back of the boat. Hayden also had a bite from a big one with the big fish still making themselves known.
Capt. Tim Richardson on Tradition also released two for Stetson and Dalton from South Dakota.  Stetson and Dalton are fishing with Tim with Mark who also fished with Tim this year in the Dominican Republic for their first white marlin (of many).
I had a catch up report from Capt. Corey Hard on Askari who put gun crewman Daniel Klein onto a lively 350lb-er on Wednesday. Yesterday, they caught two from three bites. One at 200lb and the other which put on a great aerial display for the cameras at 450lbs.
Capt. Brett Goetze's Reel Chase also finished up their trip yesterday with two fish that Brett put at 200 and 300lbs.  Brett says the boys from New Zealand are stoked finishing up their GBR trip with 5 including the one that he put right up there.
Capt. Chris "Sharky" Miles on Kanahoee released a small one on the way in. And I heard that southern private boat Gale Force also released one that they put at 600lbs.
Catch up photos
King Bay GFC's Steve and Joanne are back in WA after their annual trip on the GBR on Viking II. Steve tells me that while the fishing was slow overall, he did get a nice one which is what they came for. This is a shot of the fish they put at 950lbs on Number 3 Ribbon Reef. Thanks Steve!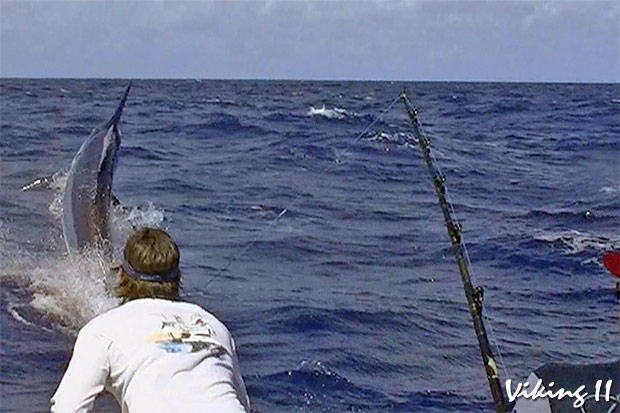 Also Michael Kelly sent me a couple of pics below from his trip on Kaizen with Capt. Russell Caphorn earlier this month. Thanks Michael!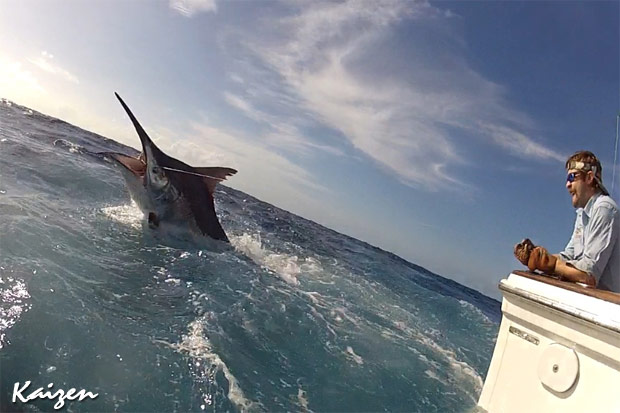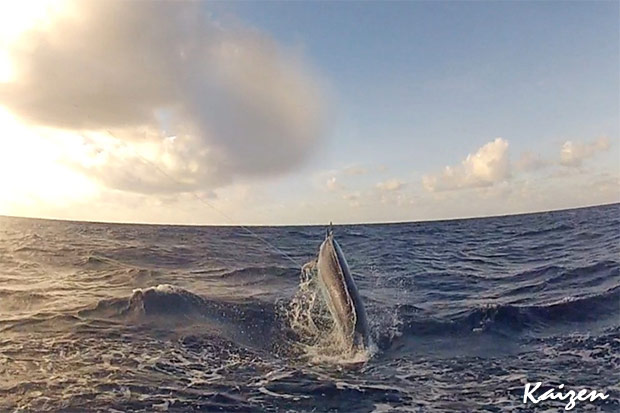 And just in: I just got this one from Shane on Askari – Shane says this is another Go Pro still, this big one from the Keinath Brother's trip in late October.