Some really good fishing at both ends of the Queensland coast yesterday.
Great fishing to the north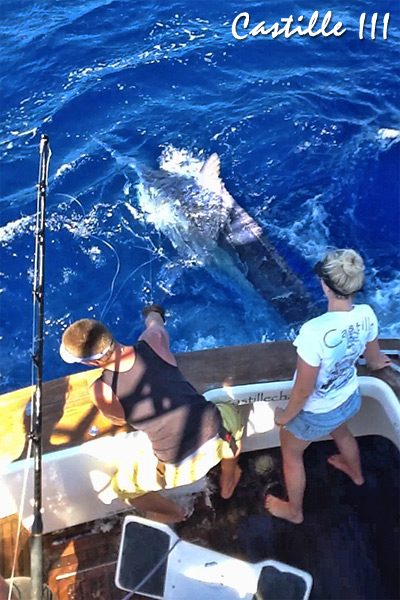 Up north, a few of us ventured wide of the Bank to find the good water and found a bunch of yellowfin, big eye, whale sharks….and marlin.  Capt. Brad Craft on Castille III found a bunch of them and put Katie in the chair on a reel nice black marlin about 950lbs. Congrats Katie on an awesome fish!  They ended up with a 250, 350 and 950 for the day and jumped off another about 600. They also missed what Brad called the sea monster!  Photo above of Katie out of the chair getting a good look at her fish.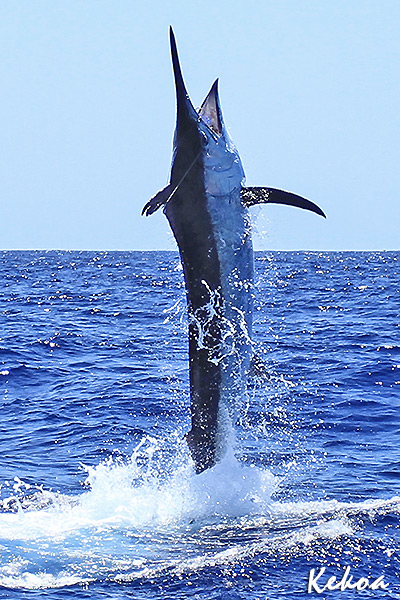 Not too far away on KEKOA, team Pelagic also enjoyed an action packed day on the water. A couple of 100lb yellowfin followed by a 450lb black for Berky and then a….blue marlin for Ron. In all we raised 5 marlin, 3 blacks and 2 blues. And had a visit from a friendly whale shark as well.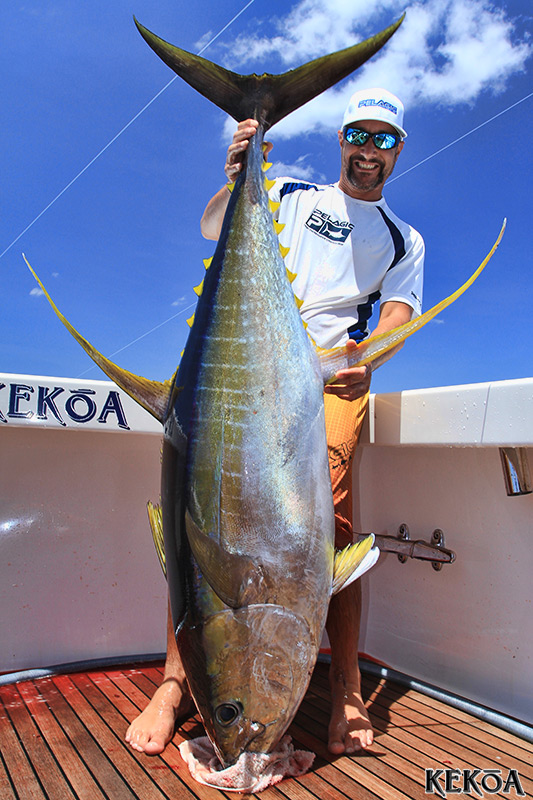 Capt. Craig "Sparra" Denham on Bounty Hunter came out for a looky and caught a black straight away after having some fun with the tuna first.
Meanwhile, on the edge it seemed like a quieter day. Capt. Tim Richardson on Tradition is on his way to a trip slam if he can find a blue marlin today, releasing a sailfish on a bait rod in the morning.
Great fishing to the south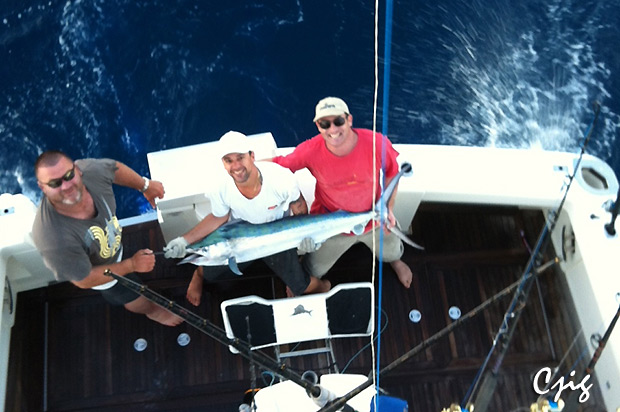 Recently Cairns departed and on his way home to the Gold Coast with his boat Cjig, Grant Thomson did what we've been talking about up here all season. He fished heavy tackle off Fraser Island in the morning for 1 black and 2 blues at 200, 350 and 550lb (as well as 3 wahoo).  He then fished the afternoon for….7 from 9 little blacks in off the island.  What an awesome day!
Capt. Ken Brown on Megumi was also fishing off the island heavy tackle and went two from two blue marlin in the morning. Ken says that both were first marlin for each of the anglers,  at 250 and 350lbs for Felix Sheehan and Paul Smeaton.  Ken says another boat fishing heavy tackle off Fraser, the Aurora from the Gold Coast, also released two blues.