This time of year we often venture 'out wide' to find the marlin on the tuna aggregation. Though, usually 'out wide' is a lot further out than what we found them this year.  Less than 20 miles from the edge, which puts the fishing in reach of even the smaller boats in the fleet and it was good to see most getting onto the fish yesterday.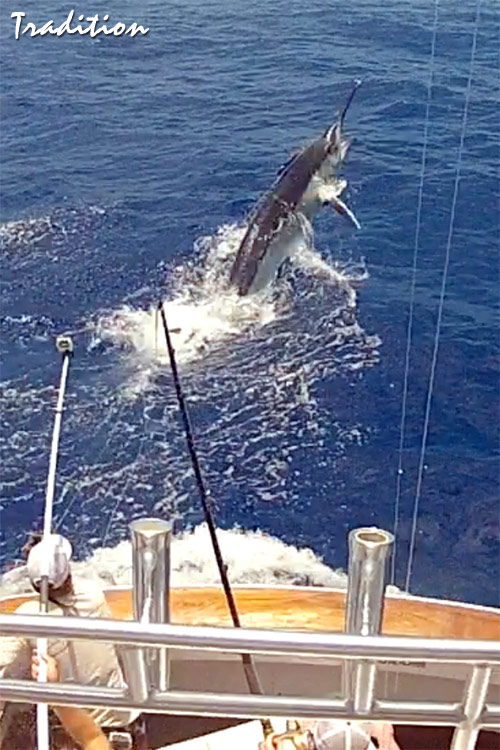 Capt. Tim Richardson on Tradition fishing the last day of his trip, and what a last day it was!  After releasing a small black early in the day, he hooked up to the true sea monster.  The fish did some typical big fish jumps early before settling in for the fight. She was eventually brought alongside after a prolonged fight – a true 1200lb-er for angler Stetson Gath!
Capt. Brett Thomas' Gorilla also settled in for a good day with four fish including two nice ones at 750 and 850lbs! Brett says the big one was a tough fish and kept them fighting for an hour before they could bring her alongside for release.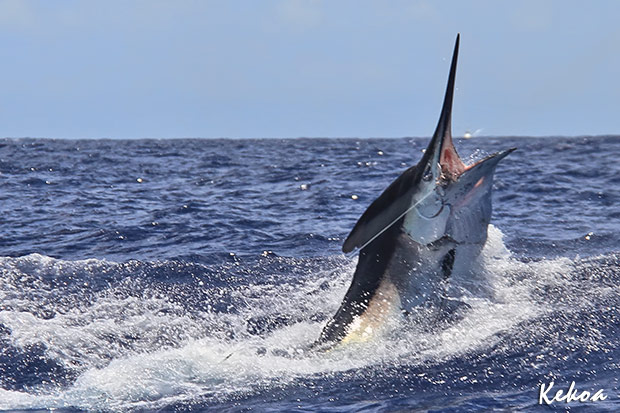 On KEKOA with Pelagic Pro-Team and Capt. Luke Fallon, we also released four black marlin to 750lbs with Ron in the chair on the big one (above). Two of the other fish were switched onto the standup pitch bait. Mike had a tough fight with a stubborn 200lb-er hooked right in the corner of the jaw, while Ron had a 400lb-er put on a great aerial display for the cameras. We also released a small one on dusk as well as a 200lb mako shark and added to our tuna count with two more yellowfin to 80lb as well as a big eye tuna.
Capt. Kim Andersen on Reel Shock arrived a little late but got straight onto the fish. He released 3 from 4 at 250, 400 and 850lbs! Rob Cox was the angler for the big fish. They also got some quality yellowfin to 130lbs.
Capt. Brad Craft on Castille III, following up from the big day previous, was raising pods of fish and released three before heading back into town for changeover. In all, Brad says they saw 14, raised 7 in the spread, releasing the three at 400, 300 and 150lbs.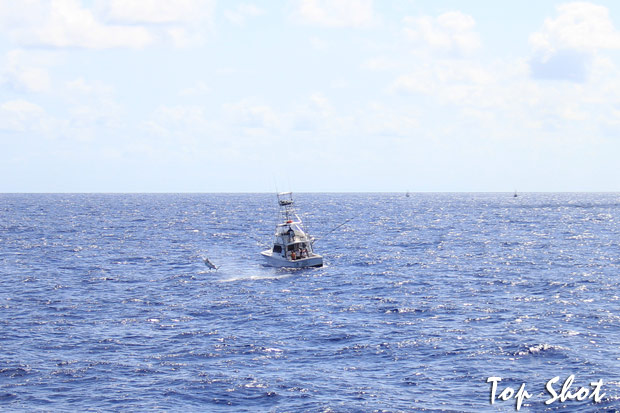 Capt. Bobby Jones Iceman caught two amongst them as did Capt. Ross Finlayson's Top Shot (I took this shot above of Ross on one mid-afternoon amongst the fleet). Capt. Chris "Sharky" Miles on Kanahoee made the trip out from Cairns for a small one and some nice tuna. Capt. Craig "Sparra" Denham on Bounty Hunter also released this one that he put at 500lbs (that I shot from across the way below).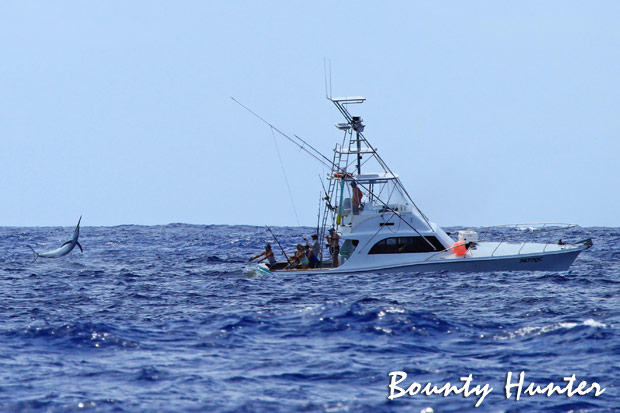 Meanwhile, our antipodean visitors from over the pond on Hookin' Bull, who are record fishing, seemingly raised plenty and were backing all over the ocean in hot pursuit.
Gold Coast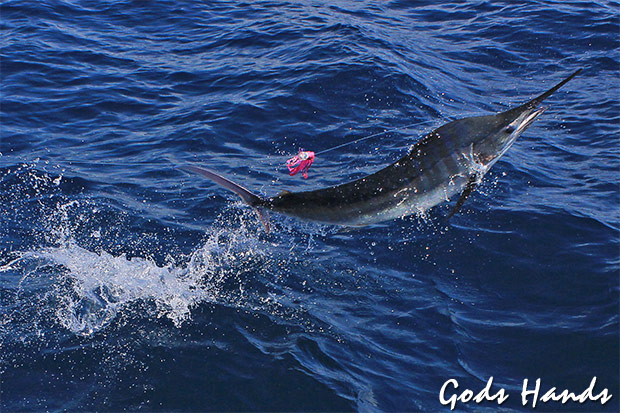 Seems like there are plenty of both little blacks on the Gold Coast as well as the blues out wide.  Larva Lures' Daniel Burke sent me this pic of a juvie black that was caught on Gods Hands by first time angler Ben Mathias (pic taken by Christian Butler).  Plenty more little blacks tagged yesterday including on  Addios, Addixion, Hoodlum and Gods Hands.  Daniel is heading out wide again today on Larva to try for some more blues.
On his way home to the Gold Coast, going past Fraser Island yesterday, I heard that Capt. Brett Alty on Mistress released two blue marlin as well as two spearfish!
Mooloolaba Billfish Bash
The 2012 MGFC Billfish Bash is under way and guest weigh-master for 2012, Ian Bladin tells me that there were lots of shots on Day 1 in fairly calm conditions, but getting the hooks to stay attached was the main problem. After a fairly quiet start, the action lit up from around 10:30, with most of the fish tagged down towards the Trench and Cape Moreton – and most of the boats to the north!  Tags were coming in fairly constantly from then until cease fishing. At the end of the day, the overall totals read 114-73-35, with 24 black marlin tagged.
The leading boat going into Day 2 is Galaxy 2 skippered by Jim McKinnon (on 7), closely followed by Liquid Asset (6), with Privateer and Big Wave Dave tied in third. Ian says at the moment it is looking like a shootout between the top 2, with the remaining teams needing to stay attached to catch up.
I also heard that a boat outside of the tournament released 10 yesterday as well!
Good luck to all fishing today!