Back home after their Cairns marlin season, Capt. Brent James on Mauna Kea sent me a couple of pics from their 2012 season above and below.
After yesterday's epic day out: The fishing 'out wide' is keeping things interesting for the fleet still in the north, with plentiful whale sharks and tuna (yellow and big eye) going around.  Although there didn't seem to be as many big fish caught, unless  you were on Little Audrey that is.  Capt. Daniel Carlson hitting the wide grounds for the first time yesterday raising a pod of 6, hooking up to 3 seemingly straight away.  They jumped off a fish about 700 and successfully released the other two at 850 and 300lbs.  Later, he raised another nice fish and then caught his third for the day at 700lbs.
Nearby, Capt. Kim Anderson on Reel Shock released another 3, and Capt. Bobby Jones on Iceman got two.  Capt Steve Ahlers on Hellraiser also joined the fun with two from four at 200 and 500lbs. And Sydney boat Gale Force also got two on their final day.  Capt. Tim Richardson on Tradition got a smaller fish on the way back in to town.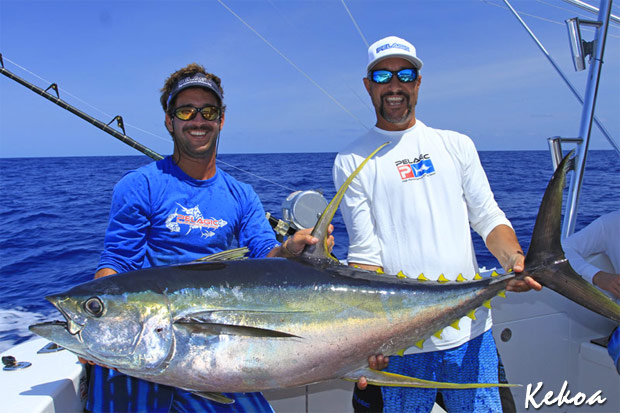 On KEKOA, we couldn't keep hooks in any of the beaky nosed creatures, but had more joy with tuna for the Xmas BBQ. And Levante also had a good double of tuna from a triple hookup.  Luke Darby sent me these pics with Trent Mathieson and Luke Darby the anglers.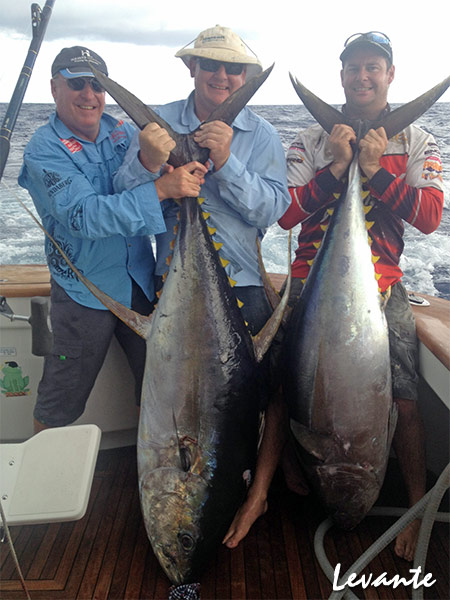 Another Mauna Kea shot below.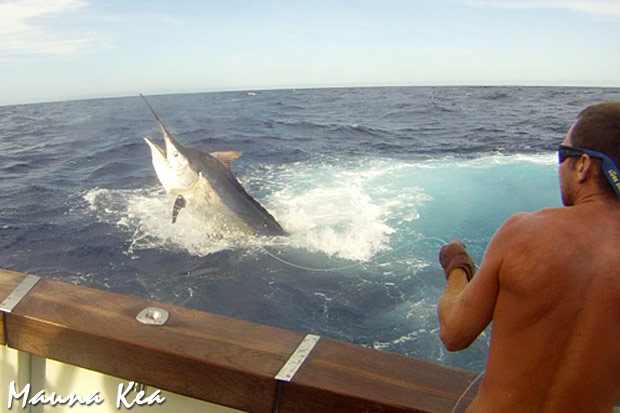 Mooloolaba Billfish Bash
Thanks to Ian Bladin for the final wrap up report from the Mooloolaba Billfish Bash. Day Two saw some more great weather, with most boats heading south towards Cape Moreton, where much of Saturday's action had been. The marlin started to play early, with the bite coming on just before 8 o'clock. Kourtney Kersnovske tagged one on Compromise, Kellie and Stephen Jensen fighting a double hook-up on Monster and tagging both to christen their new boat in its first tournament. Fido and Dragon Lady also tagged fish in rapid succession. The first sked saw a dozen fish tagged and expectation was high for a big day. The fishing eased off as the marlin became a little hard to entice, but by cease fishing the day had yielded 18 tags.
The top of the field was becoming a little crowded, but eventually the winners emerged in what was a very close competition.
Champion Angler was Cam Spence off Galaxy II, Champion Female was Kourtney Kersnovske on Compromise and Champion Other Species went to Debbie Dahl from Bring it On.
Champion Boat Under 7m went to Big Wave Dave, with Liquid Asset winning Champion Vessel Over 7 m, just beating Galaxy II the Day 1 leader and Privateer also in the mix with the same final score.
In all the Bash saw around 200 Strikes, 160 odd hookups and 42 black marlin tagged.