Capt. Kim Anderson ended his 2012 season on a high yesterday with a fish that he put up there on the mark.  Kim, who has been at the helm of Reel Shock again for the past 6 days says that it was one of a triple header and they're happy to have caught the big one for angler Heath from Bathurst. Congrats Heath! That puts Kim on 8 fish for the 6 days fishing out wide but its back to the office for him tomorrow! :-(
Meanwhile Capt. Hayden Bell on Release is continuing his run with another three added yesterday from 6 bites. Haydon says that one of the fish was a good one at about 700lbs and one of the smaller ones was a blue marlin which Hayden said took them roaring off after. They also had another bigger fish up again as well.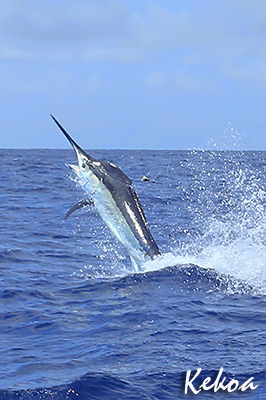 We also had a pretty good day on KEKOA putting another first time angler, Gary from the UK, onto his first marlin. This one was a black marlin that did the blue marlin thing and went greyhounding away, headed for the horizon.  Gary was so happy to see he was finally making progress when the stinger peg mark came back into sight!
We also got a second marlin for Colin, who caught his first marlin the day before. This one we fed a scad pitch bait on the 50lb stand up tackle, and Colin reckons that's even more fun than the chair. (Photo of Colin's on standup 50 on left.) We also had a larger blue marlin in the spread that had a look around what was on offer but didn't bite.
Also giving the standup tackle a go, Capt. Brett Goetze on Reel Chase who released one about the 200lb mark on the 50lb standup which they all enjoyed as well.
Capt. Daniel Carlson on Little Audrey left town and had a brief fish at Myrmidon on the way through to Airlie Beach. He had just the one bite and jumped off a fish of about 300lb.
And this is a little heavy tackle recap video from the guys on MySpace Too. A fun one!
Fraser Island Blues and Blacks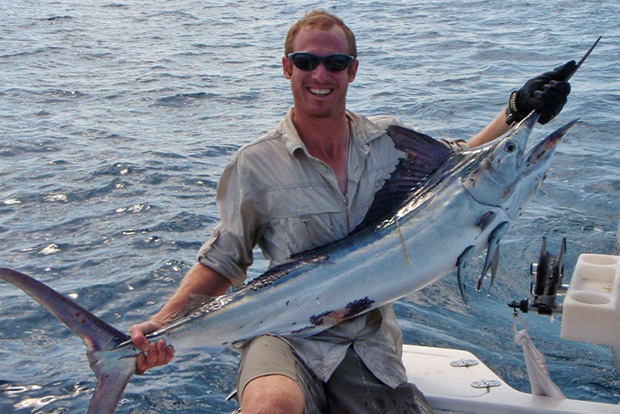 Nathan Green is fresh back from another trip to Fraser. He fished 2 mornings at Rooney's with Nick Burrows on board Pelagic with some more good fishing going 15-9-6. Photo of one of the little blacks above.
Out wide of Fraser on the blue marlin, a report from on board Megumi with Capt. Ken Brown. Brownie has been ticking away catching a blue a day averaging between 350 and 450 pounds. On a recent trip David Granville left Brownie with one of his favourite blue marlin lures – a Moldcraft Bobby Brown in Purple/Silver/Black – this lure has accounted for the last five blue marlin captures in a row aboard Megumi run in the short rigger position.
I don't think you will be getting that lure back David!