Many boats are counting down their final days of the Cairns season, but there are still big fish to be caught.
After a quiet week out wide, Capt. Russell Caphorn on Kaizen ended his trip in style with two fish 2 from 3 including a double hook up from which they got both, at 250 and 900lb off Spur Reef. The big fish went to 1st time angler John Cogan. They also jumped off another smaller fish shortly after baits went back in the water. Unfortunately there were no card in the camera so they didn't get any photos!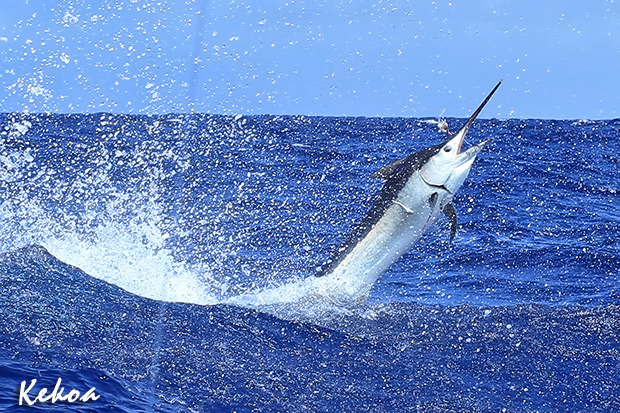 On KEKOA we likewise finished up our trip with Scotty, Colin and Gary with a small fish for Scotty before getting the early mark to head in to prepare for the Ladies Ribbons Tournament on today.  That gave us four in four for the trip.
Stay turned for the results of the Ladies Ribbons tournament on Monday.  And if you're on twitter (and even if you're not), I'll be recording any billfish on the skeds here.
Gold Coast
And on the Gold Coast, take your pick of light or heavy tackle fishing – both blues and juvie black marlin are being caught.
Fresh from his season in Cairns, Conor Lynch reports 4 from 7 on Lynchmob. And after spending the day before light tackle fishing, Capt. Brett Alty's Mistress was back out heavy tackle fishing yesterday and released a 400lb blue marlin.