A fun day out in less than ideal conditions for the ladies fishing the 2012 Ladies Ribbons tournament out of Cairns on Saturday. By my count, there were 10 billfish tagged during the day.  Capt. Kim Andersen's New Moon taking out the honors with two sailfish, from Panowonica also with two and Sebilla (spell?), Top Shot, Ugly Duck, Billfish, Panawonica, New Moon, Hellraiser, KEKOA and Askari on one each.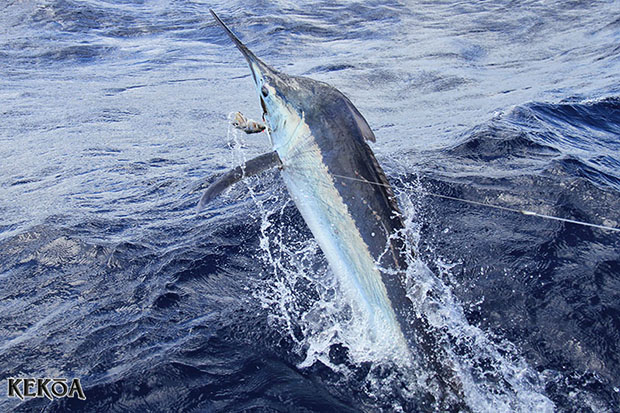 Hopefully a tournament report to come. I do know that Georgina Wrack on KEKOA won the encouragement award for her very first marlin, having traveled up to Cairns represent Mooloolaba GFC on the day (pic of Georgie's fish above).  Also, a top effort from Julie Miles (Capt. Sharky's wife) fishing on board Askari with Capt. Corey who released an estimated 200lb marlin on 10kg tackle after a two hour fight!
There were plenty of other gamefish weighed including a potential record Spanish mackerel.
Catching up
I heard from Capt. Brad Craft on Castille III who finished his final trip of the Cairns season back into Townsville on Saturday night. Brad says they caught one on the trip out to the Seamount and another on the way in at Myrmidon, and jumped off another about 600lbs. They are on their way down to Fraser next and so we'll look out for more reports soon.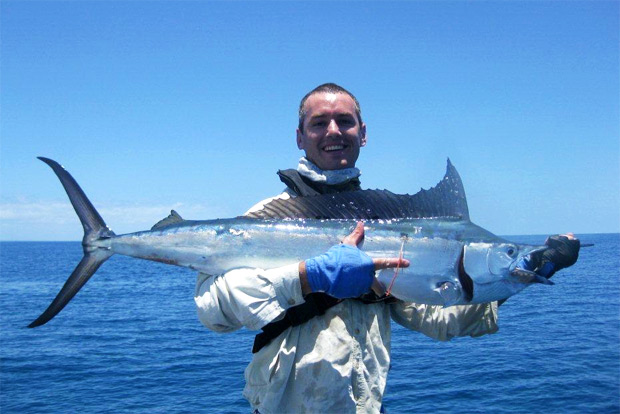 Brad Dobinson fished Rooney's Point at Fraser Island last last Thursday / Friday in perfect conditions in Brad's 4.5m Haines Traveller Frequent Flyer. Brad said they ended up 10 – 9 – 2 having serious rubber hook issues with the tiny blacks.   Don't worry Brad, it happens to us all!
Brad says they were mainly switch baiting for shots on the fly but got the couple up on lures including the fish above which was Connan Brown's first marlin.  Brad also said it was an unofficial fly fishing convention there over the two days with most boats towing teasers and successfully catching a few on the long rods!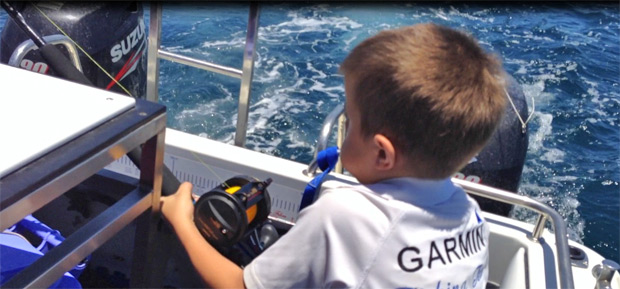 Another report from Point Lookout on Friday.  Wayne Thomsen's 7 yr old son Ryan tagged his first black marlin after 2 misses on the day. Wayne says it was lucky Number 3 for Ryan and also added another small black to the son of Tournament Boats' Damo . Wayne says it was a great day with plenty of action to remember and the final stats were 7-6-2. How cute is young Ryan on the rod!?!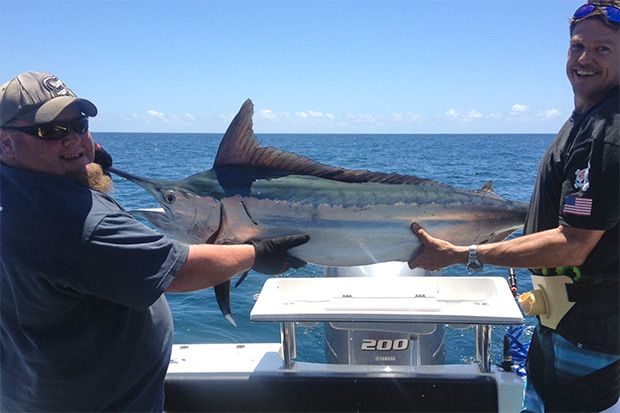 Also fishing Point Lookout on Friday Mick Atkins boat Outwide went 6-3-2 while Kitty Kat went 7-4-2. Mick says that all the fish were caught in the 17-24 mtrs of water with a temp of 23.5 and very green water. They saw heaps of free jumpers and found best bite on the tide change.