Little blacks at Port Stephens
Craig Sneddon sent me a note yesterday to tell me of a little black marlin sighting north of Broughton Island off Port Stephens on Thursday. Craig says they were snapper fishing when they saw the estimated 40kg black free jumping nearby. With plenty of bait in the area and nice clean water, can this be a summer of fun ahead for the PS based crews?
Hopefully where there's one, there are many!
Ladies Ribbons Tournament Report
Ladies Ribbons Treasurer and Club Captain Sharon Leptip has given me the final wrap up for the comp. Sharon reports in all there were 162 anglers, including 14  juniors, competing on 48 boats.
In the one day event 94 gamefish were captured and weighed, and 11 billfish tagged and released.
Club President Di Hance, fishing on Panawonica, was another who was lucky enough to tag her first ever sailfish!
New Moon took out the event with two sailfish from Panawonica also with two tags.
Champion Senior Angler was Sonia Campbell on board Top Shot who tagged a black marlin and weigh in some nice gamefish.
Champion Junior Angler was Chloe Puls on board Little Tubs.   This little champion (aged 11) caught a massive 30.4kg Spanish mackerel on 10kg, which is a potential QLD Junior Female Record.
And Sharon kindly also let me know the boat name I was unsure about in the previous report was Savella, who tagged the first billfish of the comp.
Cairns marlin season photos
I've received some more catch up photos. These two are from the team on MySpace Too [and Rhys Moore says they have some more of us on KEKOA pummeling other teams with water balloons on Saturday during the sailpast which I'm looking forward to seeing – we got hammered last year so were only getting our own back :-) ]
The first pic is the biggest fish they got this year which Rhys was lucky enough to be in the hot seat for, and the second photo is of Charlie Wards fish from last Tuesday that was called 300lb.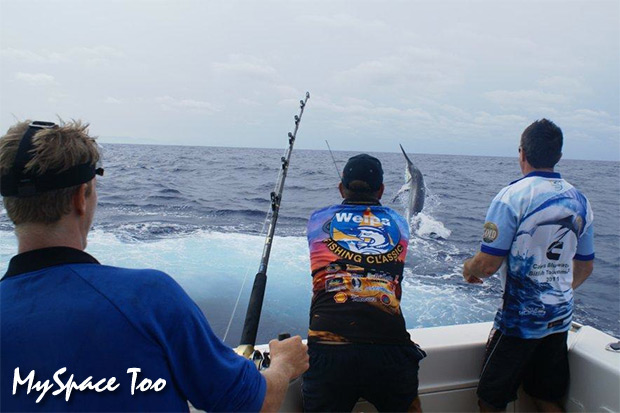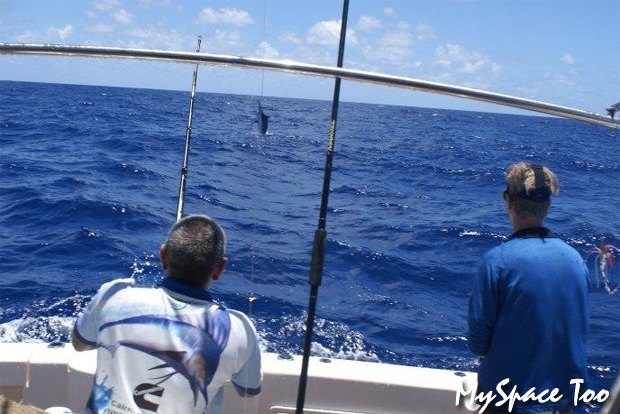 The next photo is another from Lauri Pennanen, the fishing Finn, from his trip earlier this season on Cool Runnnings. This fish was a monster that Capt. Troy Dalman estimated at well over the mark.