While most of the fleet have finished their seasons, those still fishing are getting amongst the fish. Capt. Craig "Sparra" Denham on Bounty Hunter finished a 3 day trip last night notching up four for the trip in the 250-300lb range. I'm expecting some great pics tomorrow from David Granville who was on board for the fun.  Sparra also told me about another boat he'd last seen backing up out to sea. Turns out that it was Scott "Bat" Taunton on board a private boat who fished yesterday for a nice fish that Bat put right up there at the mark!
Heading out of Cairns on Tuesday and down the coast, Capt. Corey Hard's Askari went caught 2 from 4 at 550 and a 250lb – both on lures as they straight lined it down the coast out wide.
Little Blacks
The little blacks are still being caught all over the south of QLD. Conor Lynch, who fished on his boat for them on the Gold Coast last week, yesterday joined a mate on Thunderbird for another 3 from 4 – two for Mark, one for Conor.
Don't they look great in the water! :-)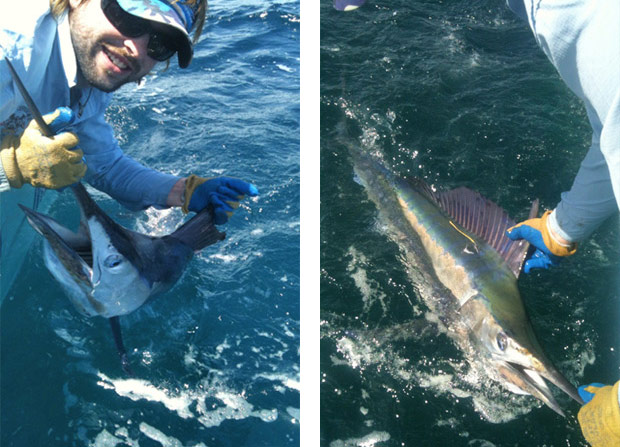 Smithy Fishing Charters' Rob Smith was also reporting 3 little blacks yesterday fishing at the Cape – so both ends of the coast!