The 'Summer of Fun' is already underway in Queensland's south-east with the little black marlin providing most of the entertainment.  A fun day or even, morning, out for most on these aggressive little feeders.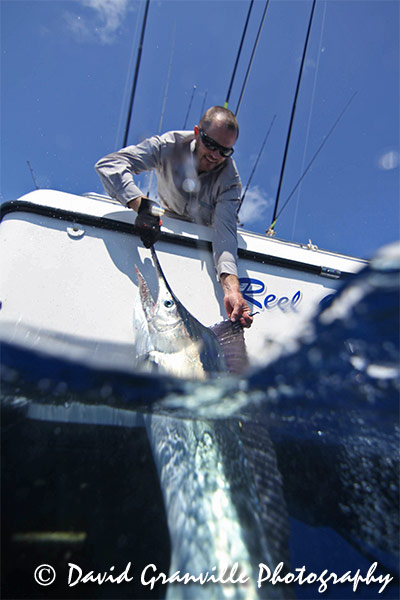 David Granville wasted no time getting back on the water after his quick trip to Cairns last week, fishing out of Mooloolaba yesterday aboard Reel Capture. The boys had a very busy morning catching 5 little blacks by 10.30 am including one that David caught a bait jig that was part of a double header. David says the fish were in the 15 to 20kg range but most exciting was that two of the fish were recaptures. They managed to remove the old tags so it will be interesting to see where these fish have come from.
David also said he heard of several boats catching little blacks from Noosa to the Gold Coast yesterday so the fish seemed to have arrived in good numbers now and are widely dispersed. More great DG photos above and below.
Also back from his brief stint in Cairns, I heard from Lachlan Tuckwell (who was on Kaizen again for a couple of trips with Capt. Russell). Lachlan was fishing on Cat-a-pult on Saturday and went 1 from 3 on little black marlin. Lachlan also tells me that nearby Bangalee went 5 from 5, also couple of other boats in the area successfully tag and released marlin. A photo below that Lachlan took of Bite Me next door who also went 4 from 5.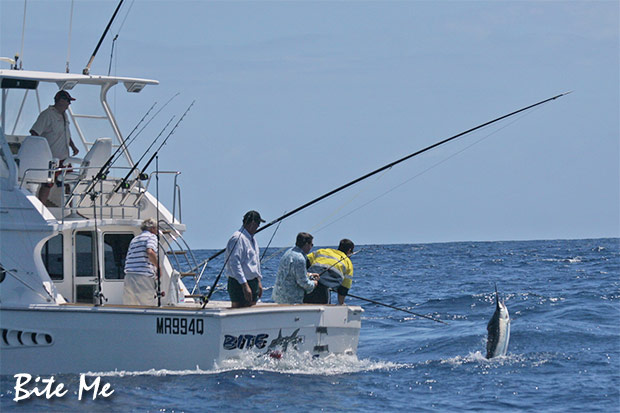 Conor Lynch (also on Kaizen up north but for the whole season) continues his boat hop fishing Saturday on Game Plan going 6 from 12.  Conor says while their conversion rate was down a little, it was great fun. They saw several other free jumpers/free feeders swimming on the surface as well.
Grant Thomson and family on Cjig also got in on the action with one off the Pin Bar (photo bottom) for son Julian and another on Sunday.  And Wayne Thomsen tells me that Team Garmin (aka Kitty Cat ) managed another good day on the water getting young Ryan onto his 2nd black for the season going 4-3-2 off Point Lookout  (photo bottom). On ya Ryan!
Blue Marlin too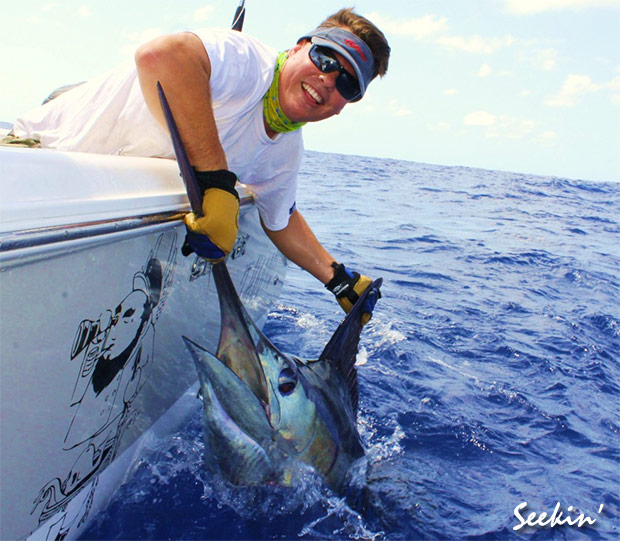 Kurt on Seekin' sent me this great shot from their weekend of both blues and blacks. Kurt reports they went 2-2-1 on solid blues off Point Lookout on Saturday (plus 3 dollies).  They followed up on Sunday with a 3-3-2 black marlin off Point Lookout again (and another dolly). Kurt says there is plenty of bait spread along Blue Lake Beach (Stradbroke Is).
Also fishing for blues, Capt. Ken Brown on Megumi who is now back in Brisbane after a month up at Fraser Island. Ken fished father and son Bill and Nicholas Chatterton on Thursday and Friday and while the water wasn't good (being green and cool), they managed to get a nice blue around 500lb on Thursday for Nick, and another about 450lb for his dad Bill on Friday.
Ken says the weather has cut short their stay but while they were there, they enjoyed some good fishing with a total of 10 good blues, 1 stripey, a bunch of little blacks and mahi mahi and a couple of yellowfin during the month (although they didn't get the lunatic blue marlin fishing its renowned for!)
The weather is also a big factor for anyone considering fishing there and they lost quite a few days due to that.  They'll be back again next November for another go at it!
Also fishing off the Gold Coast on Saturday, Capt. Ross McCubbin on Lucky Strike hooked up to a double header of blues and while they jumped off the bigger fish, they caught the small one. Ross says there are lots striped tuna and a few dolphin fish around and that it looks good on 200m line. He also missed 2 medium blacks in 60 fathoms on the way out. Also fishing for blues yesterday, Vince on Barco tells me they caught 1 from 1 blue marlin and 3 from 3 dolphin fish out wide.  Vince says the water temp is up but the blues still require a fair effort. He heard of only another 2 or 3 caught.