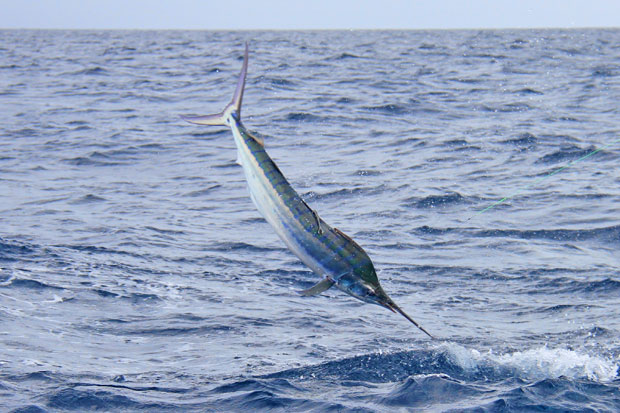 SEQ
The professional charter fleet operating out of SEQ have been having a ball putting their clients onto the fish.  Capt. Brett Alty's Mistress fished Saturday and Sunday on the light tackle. On Saturday they ended up with 5 from 9 little black marlin, while on Sunday they went 4 from 7 including a first marlin each for Gary and Ben.
It tops off a busy year on the water for the Mistress crew who have just added to Barry's IGFA award with a swag from The Billfish Foundation.  Capt. Brett was named Top Release Captain for Pacific Black Marlin and Pacific Blue Marlin, while Barry added the Top Release Angler for Pacific Black Marlin and Pacific Blue Marlin  award!
Plenty of other boats were getting in on the action on both coasts. Saturday was a top day for the Reel Capture crew on the Sunny Coast who released 10 little blacks.  David G tells me it was a bummer of a day to chose to do yardwork over fishing! And Paul Ditchfield also sent me a report from a couple of youngsters from the Moreton Bay GFC who spent half day on water on Saturday in the Cape Moreton area. They released 2 black marlin from 6 with both fish firsts for Oliver and Louise (10 years and 12 years old). Congrats Oliver and Louise!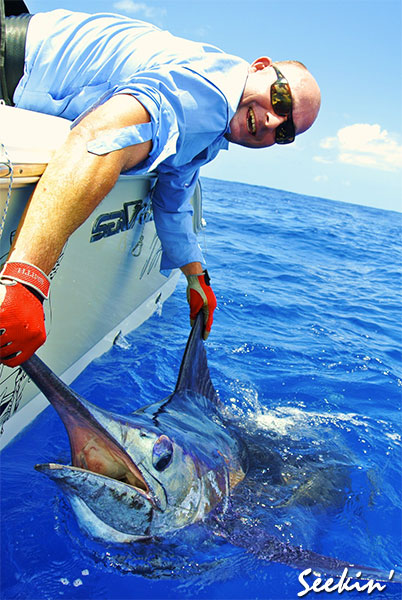 And a few still finding blues out wide. Kurt De Villiers fished off Point Lookout on Saturday again on Seekin' going 1-1-1 on a 380-400lb blue marlin for angler Mark Edwards (above). Kurt says the fish went absolutely mad and near spooled 50 Wide with only 2 of them on the boat. Over the last 3 weekends, Kurt says they have raised 4, tagged 3 – all of which have fallen to a Zacatak Smoking Joe Blue Angel on the short rigger. They also got a 26.5kg bull dolly and with limited ice, called it a day at that.
Port & Sydney
I noticed that the Findlay Brother were successful over the weekend with Rod reporting their first beaky of the season, a 60kg stripe on 15kg. While others, not mentioning any names (hey Fritto 1 ;-)) not having quite so much luck at the Carpark. Andy tells me they hooked a dolly (not the mahi mahi kind), followed up with a flathead (!) and were trying hard for a leatherjacket to complete their 'shit fish' grandslam! Andy says the water was pretty green, but there was loads of bait everywhere.
Exmouth Network Power Solutions Heavy Tackle Tournament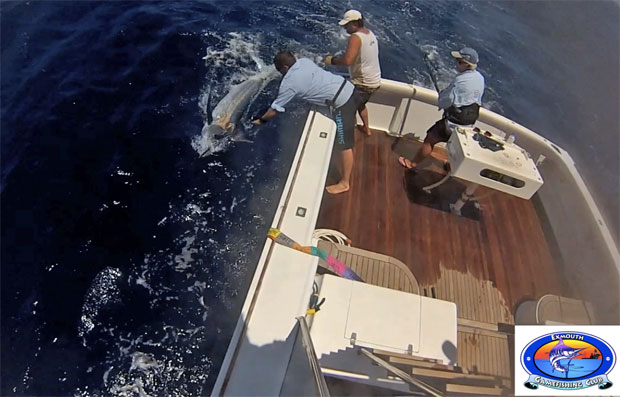 A big thank you to Exmouth GFC Club Manager Leith who has sent me the wrap up of the comp which wrapped up fishing on Saturday. The final stats were 120-86-39 with 15, 11, 13 tagged respectively on each day of the comp (view the final stats here.) Of the 39 tags, 9 were striped marlin, 6 were black marlin and 24 blue marlin
Congratulations to the crew from Winora (above) who took out the inaugural event. Led by skipper Jim Stephenson, they raised 18, hooked 12 and tagged 7 marlin.   No fish were weighed in but the Winora crew tagged an estimated 250kg blue marlin and lost another estimated at around 350kg right at the tag pole.
Winora narrowly pipped the crews from Black Marlin and Pelagic Hooker who each tagged 6 marlin. The Network Power Solutions Heavy Tackle Tournament was created because it's only a matter of time before someone catches a Grander Marlin in Exmouth waters. Maybe next year…!
Video Clips
I found the time on the weekend to edit some more of our Cairns black marlin season footage and put together what I'm calling a 'mixed tape' from some of the big fish on our Pelagic Pro Team trip on KEKOA in late November. I hope you enjoy!
While Darryl French sent me a clip of the sails off Weipa in September.  On this day out, team Striper  (Gaven and Andrea Roberts and Reid Benson) raised about fourteen or so fish hooked six and landed four. Plenty of action right beside the boat!