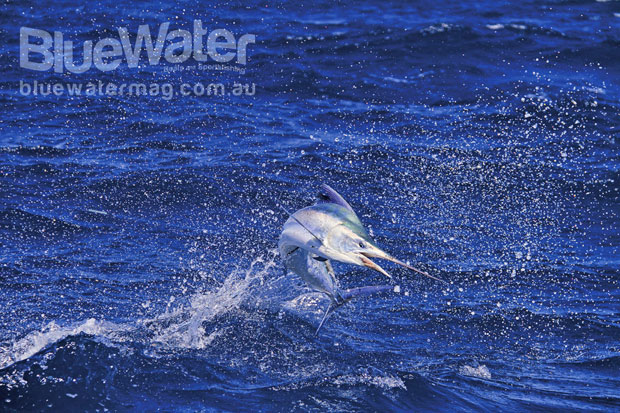 More reports of the little black marlin providing plenty of entertainment yesterday, particularly off the Gold Coast, with more juniors getting their first marlin as well. I suspect many crews are too busy fishing to send in reports, but here are a few that give you an indication of just how good it is!
Capt. Brett Alty's Mistress was back out yesterday adding another 7 little blacks to their weekend tally. With double hookups and fish seen in all directions it was a very enjoyable day for all on board.
And while he was busy on board KEKOA during the northern little black marlin season, putting clients onto the fish, crew and fishing guide Alex Holme has finally caught one himself. Believe it or not,  Alex had never been on the rod for a beaky nosed creature,  but checked that off the list yesterday with a fab day on the water. Fishing with mate Glanville Heydenrych on the 5m centre console Down Time they finished up 9 from 16 on the little blacks.
Alex said they caught a few on lures, a few on trolled dead baits, and mixed it up at the end pitching a couple on the teasers. Fun day on the water no doubt!
Also back from working in Cairns, and now so not working on the Sunshine Coast, Conor Lynch and Nathan Douglass made another day of it with Wayne on the Douglass family's boat Luna going 5 from 8.  Conor says that makes a collective 40 for him and Nath since their Cairns return last month. No doubt they will be adding to that tally before the end of the year, perhaps even before the end of the week!
And just in time for the summer of fun, the latest issue (Issue 95) of BlueWater Magazine is out today and features a write up by yours truly. The article is written as a guide to finding and catching the little black marlin this season and includes plenty of pics from our north end of the season earlier this year like the one at top. Pick up your copy at newsagents from today!
A catch up report from Cape Moreton from the weekend: David Trask on Big Business tells me they caught 9 from 10 blacks (lost count of the strikes!). With some engine trouble adding a complication David says they could have done better. They also added 4 wahoo, 1 dolly and a 12kg yellow to make it a very fine weekend on the water despite the engine!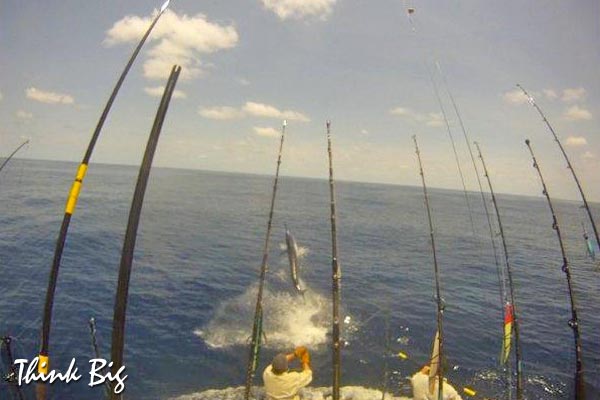 And back up north to Cairns, while the big marlin fleet are pretty much finished up for the year now,  local private boats are still getting out and amongst them.  Scott "Bat" Taunton fished on Sunday for one about 250lbs, and Bat says another boat near him caught two. Meanwhile, Paul Poulter's Think Big did a weekend trip out wide of Opal to Bougainville Reef and back.  Paul says they had a great time and on the way out, caught a nice bull dolphinfish and had a very playful whale shark playing with the deck hose and sticking its head out of the water as if it was looking into the boat. Sharon jumped in for a swim with it.  They added a nice dogtooth tuna whilst deep water jigging and on the way in added two marlin as well.  The first was a a blue marlin of around 350lb, followed up by a black marlin of 400lb (photo above).
And right up the top, fishing on and wide of Number 10 Ribbon Reef, Capt. Steve Ahlers on Hellraiser added 2 from 3. Steve says the black was on Number 10, the blues coming up out wide. They also got a nice yellowfin the day before.