Sailfish have joined in the fun fishing off the Sunshine Coast, with David Granville reporting a couple of small size models raised amongst their little blacks yesterday.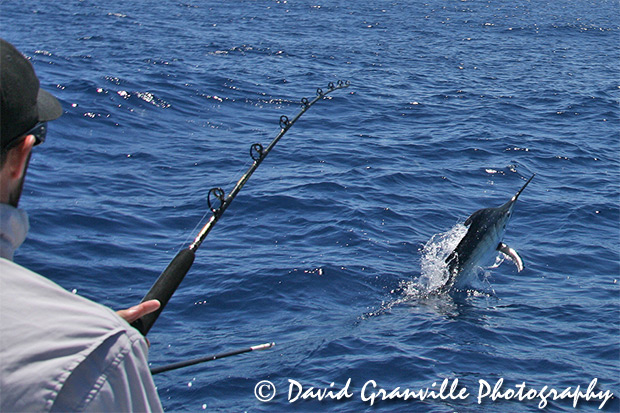 David fished aboard Reel Capture off Cape Moreton who finished up 5 from 7 comprising of four blacks and a sailfish. They fished entirely bait and switch and had some great fun teasing fish all the way to the boat. David said that most of the fish are still small in the 15 to 20kg bracket although they did get one they estimated at 40kg. It was nice to see this next size fish that provided a proper fight on 8kg string.
Other boats fishing the area were Fish Whisperer who he believes went 3 from 6 on little blacks all to billfish virgins, and Ymer who had rubber hook syndrome going 1 from 5.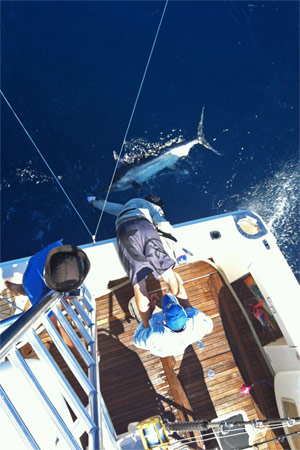 Fishing was also good off the Gold Coast if you had your 'patience' hat on.
Grant on Cjig tells me they were anticipating a pretty average day after a quiet morning of only yellowfin and striped tuna in the morning. Then it turned around with a good run between 2pm and 4pm on the way home with 3 from 4 black marlin in the 25 to 45kg range.
Left is a great shot of going to lengths to keep the fish in the water for release. Hold onto those ankles!! :-)
Capt. Ken Brown on Megumi fished Point Lookout and found very little bait. Brownies says they got 2 bites and hooked both, jumping one off on the leader.
2013 BLUEWATER CLASSIC RESULTS
Tournament results courtesy of Jon Priddle – thanks Jon who reported that on Saturday weather was very ordinary but Sunday was fantastic. The tournament was sponsored by Nautilus Marine and 29 boats and 104 anglers participated. The water temperatures ranged from 20.5 C to 25.5 C with most fish caught north at the Norah Canyons.
Capture: Lake Macquarie GFC's Blue Blooded was Champion Boat in the Capture division (marlin) from another Lake Mac team Ba'Ja who took out the Under 8m Capture division (shark). Blue Blooded's Chris Quinn took out Champion Capture Angler (Marlin) with his 73kg black and Craig Nosworthy on Ba'Ja took out Champion Capture Angler (Shark) with his 137kg tiger.
Tag & Release: On the Tag & Release side, as I reported yesterday, Port Hacking GFC's The Outlaw defended their 2011 Champion Boat Tag & Release trophy with another win in the big boat category. They tagged three marlin on Day 1 to lead from the front throughout.  The home team from the Central Coast GFC's Asalt Weapon took out the Under 8m category with two marlin tags.
Other boats point scoring on the beaky nosed creatures included Game Time (Lake Mac), Haulin' (CC), Blue Blooded (Lake Mac), Bascoon (CC), Rarely In (Newcastle PS) and Seafox (Wollongong). Overall, a total of 13 marlin were tagged over the two days.
Champion Male Angler T&R went to Jamie Henderson on The Outlaw, while Luke Brummel on Bascoon took out Champion Angler T&R Other Gamefish.
The Ladies and Juniors also got in on the action with Champion Female T&R going to Karen Perivolaris on Overtime (shark). Champion Junior T&R went to Bailey Hoye on Haulin' (marlin) while Champion Small Fry went to Connor Brown on Rarely In (Marlin).
Congrats to all who competed!