We're back home in Cairns now and gearing up for our year ahead and so I'm back online and raring to go for another great year Australian Marlin Fishing.
David tells me that Port Hacking GFC Boat The Outlaw has successfully defended its title with another back0-to-back victory at this years Central Coast Blue Water Classic held on the weekend (expecting a tournament report soon!) The crew reported a 4-3-3 on Saturday and an unlucky 5-5-0 on Sunday to hold out for the win with Champion boat T&R and Champion Angler T&R to Jamie Henderson. Skipper Hayden Fretten reported they were fishing wide of the productive Norah Canyons in 25 degree water, with all the fish taken on lures. Congrats to The Outlaw!
I also received a report from Bryan Rose who fished Norah Canyons yesterday.  Bryan, says its well worth the trip out. Fishing with his brother in-law Pete Calligeros, they caught a 200pd striped marlin at the turn of the low tide on a purple skirt.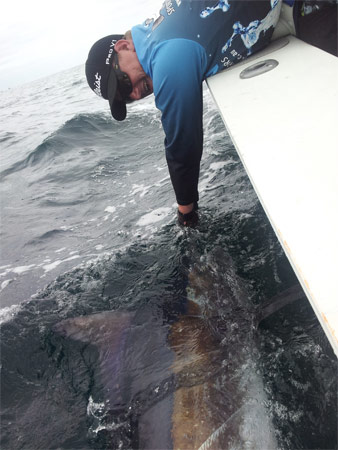 By the sounds of it South West Rocks has been hit and miss since the recent run.  Heading out Thursday in his friends new Bar Crusher, aptly named Headin' Out, Andy reports a 1-1-1 black marlin around 60kg on a lure on their first attempt. The fish was caught just off the Trial Bay gaol.
Photo left of Justin Turk and his first marlin on his boat Headin' Out.
They followed up again Saturday with another black about 35kg on the same lure. Andy says despite the slow fishing, they are still there!
And Rhino sent me this pic below from their recent action on Iona 2 off Port Mac (tourney this weekend!)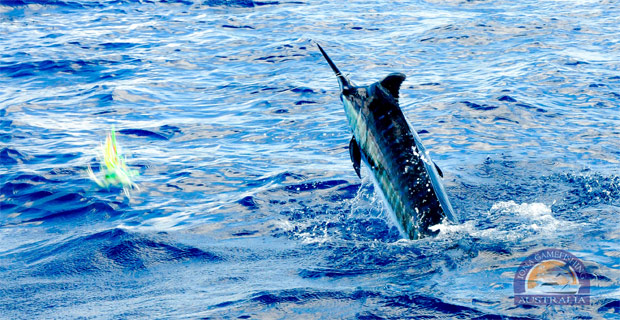 Back up in SEQ: The Walker clan have been enjoying some of the recent good fishing off the Sunshine Coast on their boat Phantom.  Jess says that they have been fishing off Moreton and are up to 23 billies from 6 days of fishing, mostly on 6 kg line.
They enjoyed another bumper day Saturday, with an 18-12-6 on black marlin, with a wahoo and a mahi mahi thrown in as well.  They also had a close call with one fish deciding to come aboard (stills below). I watched the video and the fish actually has an easy leap into the boat as it (the boat) is backing down the wave, the fish starts from a position almost at covering board level!  Makes it easier to tag out of the water doesn't it Jess ;-)
Update: the video is up on Youtube now here.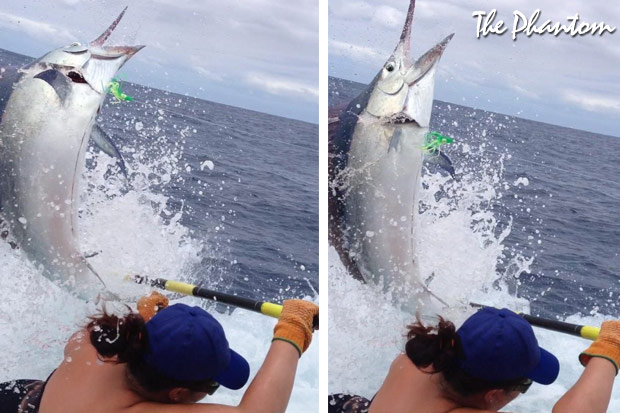 ---
New Canvas Added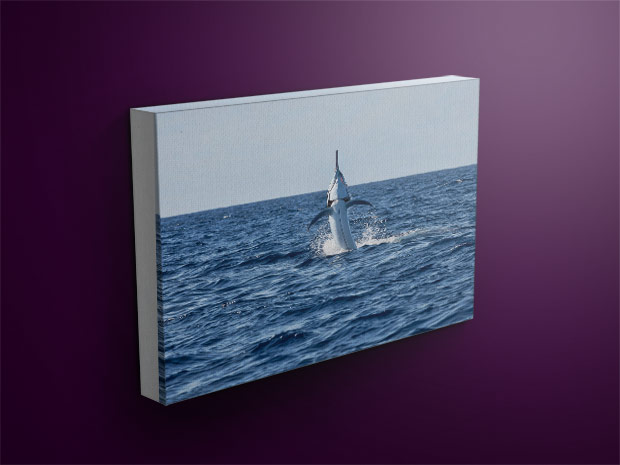 Brett requested a canvas of Paul's photo of the big fish in October 2012 on board Spread 'Em and Paul has kindly made it available. It's now available in the BMFB online store.
If there is a photo that you've seen on the blog, you can now order it on canvas yourself!
*Canvas mock-up only (not actual physical canvas).
All canvases are also available as postcards/cards, posters and mounted prints.