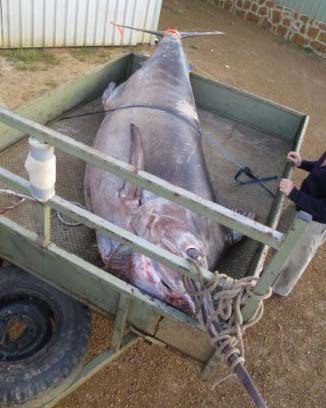 Many of you will have seen the story and photos floating around on the web of the giant blue marlin that was found washed up on the coast of WA this week.  Courtesy of Lizard Island's Ross Penegar, via WA Fisheries, a little more information for you about this amazing fish. The fish weighed in at 540kg (almost 1200lbs) and measured 4.4m (total length). It washed up on Little Beach at Two Peoples Bay which is right down on almost the southern-most tip of WA.
The head has been donated to the WA museum and full measurements and DNA samples were taken by Western Aus fisheries.
Photo Tahryn Thompson (WA Fisheries)
As we all know, a grander blue marlin has yet to be *officially* caught in Australian waters as yet, although there have been a couple close (as well as this one over). Although its a shame the fish died and washed up (according to reports, there was no visable damage on the fish, the damage you see in the photo around the mouth area was caused when getting it onto the trailer) we can live in hope that one day soon a grander blue will be caught!
Fish Feeding Frenzy
Fresh on the heels of yesterday's striped marlin report from Bateman's Bay, Al McGlashan send me this video of a recent trip off the bay. One of the craziest feeding frenzies with dolphins, seals and sharks smashing up poor old helpless baitfish! Awesome footage as always!