A bit more information from Capt. Ian "Wobbles" Ford on Hot Shot who found the late striped marlin bite off Bateman's Bay this week. They are finding the fish from Tuross heads up to just north of Bateman's Bay with plenty of bait balls with multiple fish on them and also fish coming up on the teasers hot to trot . Better late than never!
Wobbles says that for the last three weeks there has also been a good run of nice yellow in the 40 to 80 kg range with stacks of albacore mixed in with them. The bluefin are also just around the corner with the long liners getting great captures off Eden. Guys targeting the broadbill are getting there share off bites as well with a nice ones caught out of Narooma at 148kg and one down at Eden of 77kg and a few more lost.
Over all the fishing is great down that way at the moment!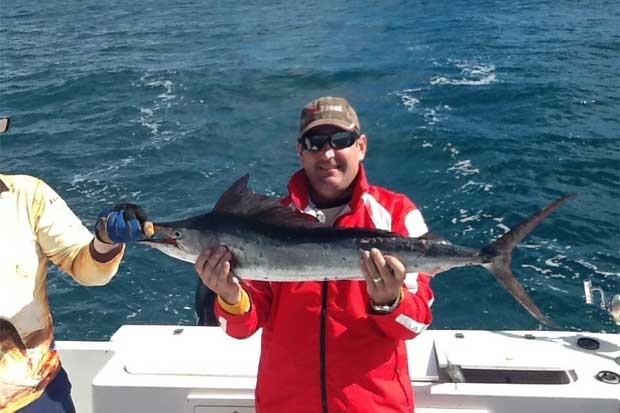 Also a quick report from David Cox who found a little black marlin yesterday a few miles north of Cape Capricorn (Curtis Island, Gladstone). The fish measured just 110cm and was tagged and released on a 4 1/4″ Williamson dorado pusher and was the first marlin for angler Brendon Lawn.
I'm traveling on the boat out of phone range for the next few days. See you on the other side!