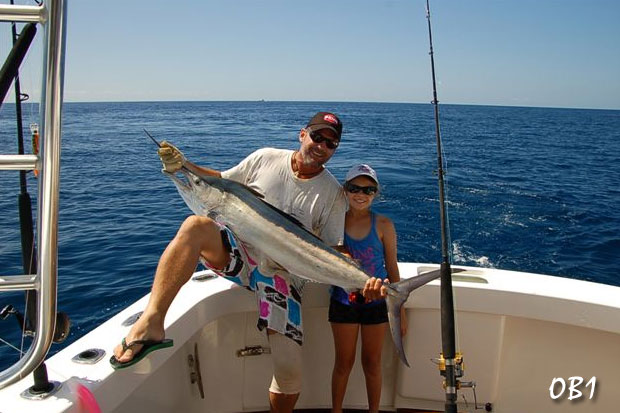 It's hard not to get excited about fishing for little black marlin, especially when conditions are this good. After a run of extremely bad weather, NQ has been enjoying a run of extremely good weather with particularly glass-out conditions enjoyed on the water on this weekend.
Peter and Leigh O'Brien and family on OB1 not only enjoyed the weather, but enjoyed the fishing as well with 5 from 6 yesterday off Bowling Green.  Pictured above and below, 10 year old Meg O'Brien in action on one of the baby black marlin.
Although this wasn't young Meg's first marlin (she notched that one up last year!) she didn't get her first marlin milestone pictured, so this one came out for a quick photo before release to do the honours instead. Congrats Meg, carrying on the O'Brien family tradition of starting out young!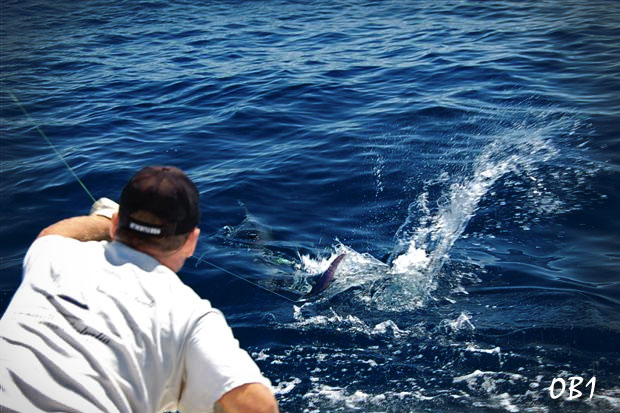 OB1 finished up with a double header of sailfish to top of a great day – 3 black marlin and 2 sailfish making up the numbers.  They were fishing amongst other Townsville GFC boats who also got into the fish including Mick Dykstra's Reel Crazy who finished with four, the Nicolosi family's Zuri with two and one each for Craig Singleton and Greg Gilbert's Maverick and Gary Powis on Fishabunga both of whom were also targeting the eating fish (mackerel) as well.
The day before, on their trip into Townsville from Hamilton Island Capt. Casey Dent's Levante went 3 from 4 on the baby black marlin off Bowling Green as well to finish off a great weather trip north on a high.
Back up in Cairns, I haven't heard too many reports from the weekend as yet. Capt. Damien Colette's Saltaire ended four days of brilliant sport fishing around Hope Island yesterday which included the release of a nice sail. While I also heard from Jay Edwards who took advantage of the great weather on Friday to fish solo on his boat Master Baiter.
Jay reports that he had already raised 2 before getting the first bite on the rigger, but that one wasn't to be. Soon after, another little black was swinging off the teaser and he managed to pitch a gar in front of it and was on.  A little while later he was successfully releasing his first solo billfish and the first for his new boat. Jay says the fish was around the 15 kg mark and while he raised another two (without bites), none of the fish he saw over the whole day were over the 20kg mark. This is consistent with what we've been hearing from all along the north with at least two classes of the young fish present. Jay said at least one of the fish he saw on the teaser was tiny around 5kg, while Kim Andersen reported fish in the same area last week as bigger models in the 20 to 50kg range.
And for anyone curious how Ben finished up after his last few days off Weipa which started with his potential 6kg tippet record black marlin on Day 1 – it was 11 sailfish and 1 black marlin from 30 seen over the 3 days. Just awesome fishing and a great boost for them over there ahead of their annual billfish tournament coming up in October.